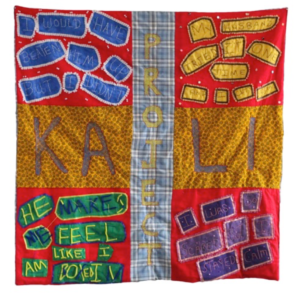 As a community artist, I operate with the philosophy that creativity is a pledge to embrace and value one's own existence and self-reflection is a process for changing awareness and behavior. The marriage between creativity and self-reflection brings forth a unique language of art that speaks beyond words. It signifies change that helps individuals to visually express feelings and emotions, which are difficult to articulate through conventional means like speaking publicly about stories of abuse, etc. It is a tool for personal metamorphosis that is the determining rationale of the project I initiated in East Baltimore in 2015. [i am] Project KALI – Celebration of Womanhood is inspired by a Hindu mythological figure, Goddess Kali, who is a healer of agony and manifestation of hope. The platform invites women to bring their baggage of pain, despair, and melancholy, tailor it into various artistic souvenirs, and collectively discover the emergence of Kali within. Therefore, providing not only an artistic voice to the participants but also creating a safe healing space for each other. Giving opportunity to establish that place for them in the neighborhood has truly been an incredible experience for me as they share individual and collective stories while discussing their own joys, successes, issues, and challenges. That, to me, is the definition of community—a mystery that is internally discovered, felt, understood, and externally witnessed by building connections with others through a common shared experience or idea.
The artworks or community outcomes—those that have benefited the participants' emotional needs as well as provide means for empowerment—are the visible proof of that communal bond. Recyclable materials, fabric, and other art supplies have been used as the wheels to move the creative cathartic (healing) cycle to keep the relationship intact. Various techniques—including puppet making, hand-embroidery, machine quilting, piecing and applique—have been used to artistically invoke a sense of relief and well being through recognition and acknowledgement of suppressed emotions and feelings.
Upon looking at the progress and success of the project, I can proudly say that the participants have been able to identify
changed behaviour
in terms of
developed confidence
and
self-awareness
. They have become
consistent
in showing
resilience
throughout the course of the project. Their
motivation
and
commitment
is stronger than before. They have shown great
leadership skills
by co-facilitating parts of the sessions with me. They have shown immense
joy and calmness
at the same time. Their
communication
about ideas and thoughts have been aspiring. They have developed trust amongst each other and have formed a
sisterhood
for themselves.
In a nutshell, the process of experiencing or building a small community with the women in East Baltimore, for me, can be explained with the help of the following diagram:
The diagram shows that establishing a community through creative art making—including puppet and quilt making in case of Project KALI—participants were able to visually identify their own emotions that lead to developed sense of self by building self-confidence and self-esteem in sharing personal stories and identifying individual strengths, which were unknown and untapped before. These identifiers became the point of departure for empowering not just themselves but also the groups they interact with, hence creating thriving communities within.
Having an impact on the women through Project KALI I can say that creative learning is not just for the privileged. It is a tool that is accessible to all. It is a language that is genuine and unique in its own way and every individual has the right to its use. Through this project, participants have identified their own value in the society by becoming self-aware. Their developed sense of self has been nurtured by cognitive, physical, and emotional competencies to confront individual fears and traumatic experiences and utilizing creative means to express them. Through this project they have been able to breakdown low self-efficacy barriers. The natural process of how a caterpillar turns into a pupa and then for days it remains in its cocoon until it breaks free to become a beautiful butterfly fits perfectly. What happens within the cocoon is unknown. In the same way, participants were hidden inside their cocoon adapting and modifying their identity as they face the harsh realities of life. This project created a comfort zone for them to honor their stories in becoming genuine butterflies that they were destined to become.