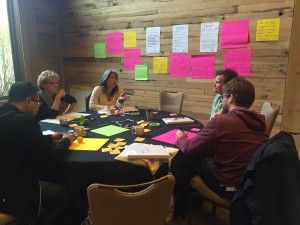 Conversations about critical issues happen all the time. Conferences, blogs and community meetings offer any number of opportunities to raise and share experiences with these issues. And yet, we experience seemingly endless discussion with little discernible progress towards shared solutions.
Throughout the field, our colleagues are working towards creating meaningful conversations that result in collective action and shared solutions. NAS is experimenting with an ideation process to lend form and action to conversations The Ideation Summit is a process that transforms stakeholders with divergent interests into collaborators providing a roadmap for identifying, clarifying and activating solutions.
Our Ideation Summit is baked into The Chief Executive Program as a capstone event. The Summit at Sundance creates opportunities for a group of colleagues – 46 chief executives from across the US and around the world in the latest iteration– to harness their collective brainpower and wisdom and tackle tough challenges facing their work.
Here are the basic steps:
A community with a shared understanding of purpose or values comes together and identifies one or a few problems to solve;
NAS works with small groups to dig into the problem and cultivate buy-in from each participant, developing a shared framing of the problem;
The entire group takes part in a two-day, in-person event where they generate hundreds of possible solutions, sort and prioritize the solutions and create a plan for prototyping or moving forward the best ones.
Grounded in theory developed by our partners at Vanderbilt, Owen Graduate School of Management and University of Michigan, Ross School of Business, this practical process emphasizes action.
For the Summit at Sundance, these were the questions the group defined.
How might we, as arts leaders, hold ourselves accountable to addressing the rising inequality in our communities?
How might we ensure the arts are a convener and participant in identifying and addressing important community issues and in community planning?
Communities, funders and the environment all shift over time. Arts and culture organizations, on the other hand, can get stuck in patterns of doing and being. How might we change so that we remain relevant when our communities change?
How might we, as leaders in the cultural sector, be critical, formative drivers of building the vision for a new economy? ('New Economy' refers not to the high-tech economy, but a reconsideration of what the purpose of the global economy is, defining it more broadly to include issues of political and social justice, environmental sustainability and broader measures of wellbeing.)
Through brainstorming, idea clarifications, a group voting process and rapid prototyping, these statements translate into a select number of chosen ideas to move forward.
Over the next few days, we will be sharing reflections on the process and on these ideas with you. We encourage you to add your voice, questions and experiences to the conversation, and to use the information and conversations to inform action!