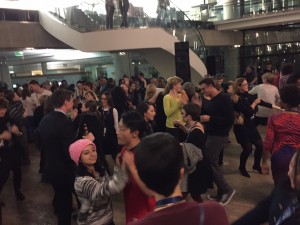 This week, we're sharing reflections on the Summit at Sundance process and on the ideas leaders in the Chief Executive Program: Community and Culture worked on during this Summit last month. We encourage you to add your voice, questions and experiences to the conversation, and to use the information and conversations to inform action! In this post, Daniel Gorman (Shubbak Festival), Cristy Johnston Límon (Destiny Arts Center) and Carol Varney (Bay Area Video Coalition) share their ideas on how they might use their spaces to heighten community engagement and to have important social and political dialogue. 
Over the course of our time together in the National Arts Strategies, Chief Executive Program: Community and Culture, a key point that emerged again and again was the disconnect between arts organizations and the wider, urgent questions being asked across society. As such, during our final gathering one of the topics we discussed was how to better use arts spaces for real community engagement. We need to think about how we can use our spaces to open the dialogue between those who want to be in conversation, in community, as well as those who are in conflict. Arts spaces can provide a 'neutral' space to facilitate conversations, creating 'safe spaces for unsafe conversations' as one member of our cohort put it.
A number of key ideas came from our discussion:
Don't just 'tack on' community meetings and dialogues, integrate community-led initiatives into every element of your work

Be creative with how you use your space. Think about whether your space could be handed over to other community groups for use outside of your programming hours. You could also offer a grant subsidy to offset usage costs for grassroots community organizations. Don't let it sit empty!

Facilitate the difficult conversations, and share contacts and networks to leverage a diverse community for these conversations.

Freedom of expression is a key component of this – we should use the 'arts' as a tool to deal with radical/challenging topics in our communities – and we should do this through deep partnership with those in the community working on these topics

Arts organizations have a flexibility of space and a can encompass many communities within their mission. Ours can be open spaces for unexpected ideas

We have great resources available: specific tools and expertise – let's be sure to use them, and let others know they exist and are available for community use

Use our spaces and the artists who work in them, as well as workshop leaders, to support community advocacy through the arts

We can fundraise for a community engagement manager as a core priority in our spaces
Many of these points came up over the course of our gathering. As members of our community with a space as a resource, we have both a responsibility and a huge opportunity to engage with some of the most challenging topics of our times in new and exciting ways. We strongly believe that this can be a hugely enriching process for all involved, and can lead to the creation of ever more relevant and high-quality work.