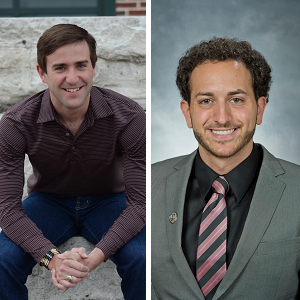 This week we will be featuring conversations with leaders working in communities. Scott Burkholder is an entrepreneurial minded, art promoting engineer based in Baltimore. He oversaw the business side of the Baltimore Love Project, the largest self initiated public art project in Baltimore and is currently working on utilizing art as a tool to teach empathy. Inspired by his teaching experience as an eleventh grade English teacher with Teach for America, Ali Fadlallah merged his passions for music and arts education by founding Personality Music, a creative initiative that uses music and the arts to create positive social change.

I have yet to meet Ali Fadlallah face to face but I full heartedly consider him part of my community. It is an interesting thought that community transcends the physical, but it is something that I believe each one of the fellows knows to be true. The transcendence of community has made my initial CCF relationships rich. It will likely serve as great foundation for powerful conversations and building meaningful things.

Several weeks ago Ali and I were partnered to have a conversation about our thoughts on creative placemaking. Between the lines I read encouragement to find new boundaries. Over the course of several phone calls and the wonders of google, Ali and I certainly explored common territory but we also found some edges. We would welcome you to glimpse some of our process, and hope that you enjoy the product of community working together. Please note that Ali did the heavy lifting with his word-smithing talents, I just jumped when told to do so…
Creative Placemaking
By Ali Fadlallah


Culture, entrepreneurship, creativity, art.
The topics go on … where shall we start?
We're building communities, we're playing a part…
We're posing question after question from the heart:
Is a community more than a neighborhood/geographical space?
Neighborhoods and spaces depend on unique faces
Who share experiences or tastes, becomes the tie like laces
Remove this shared experience you lose community, tasteless
Thus we transcend the races and the pavement, build a basis
Rooted in unity. Hence we commune!
Why are there so many communities? Do we need them?
A Church community. A community of bikers. Job-search community. Community of hikers.
There are countless community, well because the, theory is…
We share a community when we share an experience!
What role do cultural entrepreneurs play?
And so we turn to the trailblazers. The Artrepreneurs.
When creativity's stripped we're seeing fewer and fewer
But art is ever evolving, ideas newer and newer
Thus we turn to the specialists, who specialize in renewal.
The cultural entrepreneurs…
Don't entrepreneurs only pursue making money?
Transcend the ideas of entrepreneurship.
They bring an extra bottom to the line, now there's a newer ship
Sailing toward social good that event corporates have boarded.
Cause there was a hole in the soul of that first ship which hoarded
All the money. Money! Money! It oughta make you think
A sole focus on the money is enough to make you sink. (and stink!)
Can a community benefit from an entrepreneur in residence? How?
Now these ships multiply, but these ships need a guide.
Captain who can lead, not just demand an "aye aye!"
Lead from behind, introduce a new piece of the pie
Introduce person X to Y, Y to Z, what a surprise!
Now the network is bigger, but the world is smaller
The ideas more abundant, the list of followers taller
The captain shows us that progress is always possible!
Communities are never obsolete they overcome the obstacles
What is the big deal about creative placemaking?
Thus a sense of responsibility we adopt
For on Creative Avenue there's many stops
And for each of these great places we're stoppin'
You have cultural entrepreneurs who opt in…
Opting into ownership, showcasing the showmanship
Contemporary as tomorrow or classical as Roman Lit
Has creative place making been "sold out"?
And in an age of selling soul how do we be bold now?
Who can do creative place making?
And do we compete like place-taking
In a race to rise like cakes baking?
to the top…
Or do we not?
Do we create communities instead?
And account for the unfed
Starving for new art, a new start, a new thread
of ideas…
Where does a cultural entrepreneur's journey begin?
Perhaps with these ideas we begin…
We pry them out from within
What is the philosophy of a cultural entrepreneur?
And pledge to make a place where true expressions ascend
To the communities throne
Little pay, little glory, and many failings; why would anyone want to push culture?
For otherwise we risk clones.
Not celebrating our own
Individuality comprised:
Not growing; (was grown)…
Not sewing; was sewn;
Not knowing; not known;
Not showing; not shown;
And so we realize that our biggest risk is not risking for each other
to be left (unsafely) alone.
Why would anyone want to get into the culture industry?
In other words our other words must be heard;
Brave voices bore shepherds from the herd…
Is there a benefit to the toil of a cultural entrepreneur?
For from the undergrounds depths of that soil
A creativity is bred from the toil
Who reaps the value of a cultural enterprise?
Just as struggle brings creativity, so creativity breathes life
Into the lifeless, Now those with strife are on strike
Or those with passions are chasing
And those with problems are facing
Miseducated feel bright
The underrated take flight
The cultural sector has a system and a man just like any other sector, who is going to change that, and how?
And now a movement spurs acting out of spirit, no spite.
For the fight of the poor musn't be the plight of the privileged
Why does the cultural sector need people who push the envelope?
But instead to say we have diversity, art, a culture to live with
Amongst us all…
Has the cultural sector welcomed you to the family?
Stand tall
Introduce yourself
Would you say a cultural entrepreneur is a black sheep?
If you stay true to you
You'll never lose your wealth
So be yourself, be unique, they may call you a black sheep
Perhaps you're just a shepherd disguised….
Creative cultural work makes communities_____ LIVE!