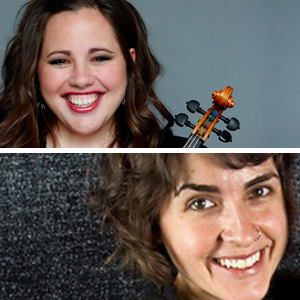 This week we will be featuring conversations with leaders working in communities. Jessica Moore and Heidi Wright are members of our Creative Community Fellows program. Jessica is an arts organizer and curator working with artists to produce new work while creating access to art through community partnerships. Heidi is a native of Mesa, Arizona, a teacher and violinist with Tetra String Quartet. The following is a recounting of what they learned from their conversation.

Summary Thoughts
By Jessica Moore
Big Ideas from Tetra String Quartet — Talking with Chrystal and Heidi from Tetra String Quartet pushed me to reformulate my thinking around the complex relationship between two words I use constantly – art and community.
Communities are brought together by unifying factors.
We started our conversation by defining community and I thought that we would have really similar definitions.  We did for the most part. The differences started to arise because of the range of groups with whom Tetra works, including inmates. As we talked I realized that my basic assumption was that communities gather by choice, so the "unifying factors" that bring them together were voluntary identifications. Thinking about community in relation to prison tilts this idea.
There are so many people involved – the prisoners themselves, their families, people who work there and the geographic location where the prison sits. What types of communities form when people are forced to be together? I don't have the answer, but broadening the scope of what defines a community has brought new clarity to the "c" word.
That leads me to the another point Tetra raised — looking at the ways we, as arts organizers and artists, work in and with communities.
Being a guest
Since I started focusing on art in neighborhoods, I've had multiple people recommend that I find a way to become part of the different neighborhood communities, but when Heidi and Chrystal mentioned the idea of being a guest, the wheels started turning. Why not be a guest? How does that differ from being a member of the group?
What I really appreciated about their perspective is that as guests there is permission from everyone involved to ask questions.Tetra String Quartet mentioned several different situations where they have been guests, from working with children who have autism to working in prisons, and it's expected that you have to learn more before you dive in. It was a refreshing reminder to step back and reexamine before going forward, both as a guest and as a longstanding community member. Confucius said "He who knows all the answers has not been asked all the questions."
Stay mobile and assimilate
Another idea from Tetra, and one that sums up much of our conversation, was that being mobile in the production / presentation of art (something we both do) also means being adaptable and assimilating to different communities and audiences. Tetra is traveling around the country taking classical music into all kinds of situations – it's pretty fantastic and they have a nice sense of responsibility around this way of operating. They ask the questions and consider the framework all so that they can, as Heidi said, "touch on that unifying factor that makes a community."
Summary Thoughts
By Heidi Wright
Creative Placemaking… Whaaaaat?
Before joining this amazing community of artists we were not familiar with the term creative placemaking.  Talking with Jessica really helped us define it and realize that it is definitely relevant to what we want to do with music.  Just like artists are bringing color and life into empty spaces we want to bring our musical performances and ideas into a prison.  Jessica also introduced the term creative placekeeping which made us realize the importance of building up from the existing community we want to reach.  The more questions we ask, the more we know, the better we can serve.
Aha! Learning Circles
Jessica mentioned the term learning circles, a group of individuals with a common interest who meet regularly to learn from each other about a self-identified topic; they are flexible and peer directed.  I realized that my quartet, Tetra, is a learning circle, but we need to add some more minds and skills in order to diversify and be more effective.  Jessica functions mostly as a facilitator for artists.  We need a Jessica!  This helps us know what kinds of people we should be seeking out and connecting ourselves to.
So, why are we doing this?
My string quartet's mission from the beginning involved staying rooted in our community, geographically speaking.  Playing in prisons would affect so many more than just the inmates.  There would be a ripple effect, reaching inmates, employees in the prison system, family members, and so on.  There is also a great opportunity to create awareness about prison advocacy and the power of music/arts.  Although the point of entry is concentrated in one place, our project has the potential to have a wide reach in our community.