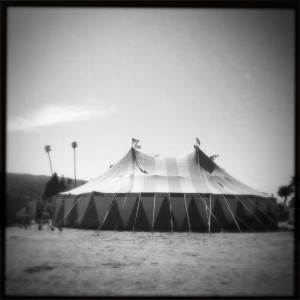 What happens when you try to create something new in your organization? You might be lucky enough to be able to go off in a corner and sprint through the design work without any disturbances. But more likely, you are encumbered by some pesky obstacles otherwise known as policies and procedures. You work tirelessly, are just inches from a reaching a Eureka! moment, only to have one of the following happen:
You get thrown out of the conference room because you didn't sign up for the time slot
You get dragged into staff meeting
You need authorization from your boss to go further, there are no approval forms in the tray and the printer is out of ink
And then a donut or facebook or something shiny catches your attention, and it's another day before you come back to your big idea.
The problem of everyday business impeding innovation is not new, and it affects all kinds of organizations. Lockheed Martin was faced with this same dilemma in 1943. As the story goes, the pressure was on to create a jetfighter in response to jet threat from Germany, and it had to be done quickly. In order to meet this challenge, a team of Lockheed's best engineers was formed and took up camp in a rented circus tent just outside of the main facility. The team met its goal with time to spare, designing and building the XP-80 jet fighter in just 143 days.
The conditions under which the engineers worked in order to achieve such success are known as Skunk Works® (find out the stinky meaning behind the term here). A Skunk Works® division still exists at Lockheed Martin and the concept has been adopted by other companies such as IBM. Though the set-up differs (I'm guess not all are in circus tents), the Skunk Works® concept is to free a set of workers from the hindrances of bureaucracy so that they can concentrate fully on a single project.
Though typically smaller in size, arts organizations often face the same hindrances to innovation as the Lockheed Martins of the world. The same standard operating procedures we put in place improve our organizations by ensuring accuracy might be holding us back from contributing game-changing elements to our field.   Yes, a lack of resources also puts innovation lower on our list of priorities. However, I think that we often make the mistake of thinking that R&D cannot be inculcated as a regular practice because it is too expensive or time consuming. Using the innovation process to come up with small and cheap experiments will actually help you to identify and fix any issues before a program or product goes to market – at which point it will be more costly to correct.
It's not uncommon to find arts organizations with a skunkish unit or "lab" division that follows its own set of rules. Dance organizations, for example, often have a smaller company that performs experimental choreography or works in progress in an alternative venue to test out new ideas and styles without all the planning of a full-blown production. Ballet Austin does this with the New American Talent Dance project. Choreographers are given six weeks to create three new works. Granting more creative freedom allows choreographers to be so prolific in a short span of time. On the other hand, Ballet Austin protects itself by clearly branding the New American Talent Dance project works as something apart from the mainstage productions.
Some cultural organizations are considered Skunk Works® for other institutions. Science Gallery Dublin actually serves as a center for rapid experimentation and innovation for Trinity College, which it is a part of. Science Gallery offers a space where individuals otherwise operating in silos can come together to pool their ideas. As the organization's director Michael John Gorman describes, "In a university, an astrophysicist and a geographer can be working in close proximity on a similar subject (like climate change) yet they never get together to discuss it." Science Gallery provides a structure (or lack thereof) that allows these two individuals to create synergy that is impossible to achieve in the heavily bureaucratic university system.
There is another element that makes Science Gallery an excellent Skunk Works® for a larger institution: the acceptance – and even encouragement – of failure. The organization embraces failure as a necessary step in ultimately arriving at a great product or solution. (Check out their current exhibit Fail Better on the constructive role of failure). However, there is a lower level of risk involved when an experimental project at Science Gallery fails in comparison to the more formal environments of the university, which has spent centuries building a reputation of accuracy and successful outcomes rather than experimentation.
Perhaps a large arts organization might function more like a university than the Science Gallery – many are long-standing institutions with high-power stakeholders and public failure simply isn't an option. Tightly controlled policies and procedures are how the institution can function at its size. This is all the more reason to create a Skunk Works® – a small, nimble hub set apart from the institution where experimentation can occur. (If you're interested in reading more on this topic, check out Clayton Christensen's book The Innovator's Dilemma.)
American Repertory Theater (A.R.T.) is a great example of an organization that created a Skunk Works® to manage risk. Under the leadership of Artistic Director Diane Paulus, the theater opened OBERON, a "club theater" in an alternate space, with an alternate business model. OBERON serves as an "incubator for local and emerging artists". A crucial factor in making OBERON a success is that it defies the rules of traditional theater: OBERON operates in a club-like setting rather than using A.R.T.'s mainstage production venue, the Loeb Drama Center. Arguably, the kind of innovative programming that happens at OBERON could not occur in a conventional, proscenium theater where producers are on the hook for filling over 500 tickets per performance. A.R.T. can take on more risk in there OBERON, because failure is not as expensive.
Now, back to you, the cultural manager eating a donut and checking your twitter feed while your idea festers in the corner. Most likely, it's not possible to set up a circus tent in your parking lot and create a fully-fledged Skunk Works® division in your organization. However, Lockheed Martin's approach provides some useful suggestions you can incorporate into everyday workflow in order to create a culture of innovation.   Here are some aspects of the Skunk Works® philosophy that your organization should consider when a problem needs to be solved quickly:
Set a stretch goal – enough of a stretch to make it a bit scary.
Compress the timeline. You want your team working at a sprint, not a jog.
The team involved should be small but mighty. Resist the urge to involve more people than necessary and carefully consider the qualities and talents needed on the team.
Take out all the regular rules (i.e. approval and reporting process) during certain times. This is perhaps the most important aspect. The original Skunk Works® had no contract and wrote the bare minimum number of reports.
Get out of your normal work environment. Consider avoiding the trap of paperwork on your desk or incoming emails by taking the team off-site for a day or two.
Make failure a regular part of the innovation cycle – but make sure that failures happen early on in your project, as a result of a small experiment. Then learn from it.
Do you know any cultural organizations that have a designated space for innovation, where things work differently? I would love to hear about the benefits – and trade-offs – of developing a Skunk Works® division.