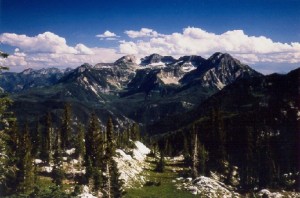 Editor's note: Over the next two weeks, we'll feature posts around the final convening of our Chief Executive Program, The Summit at Sundance. We invite readers to participate in an online discussion of four major issues facing the cultural field. In this post, Sunny Widmann introduces the event and the process we'll use.
As with many organizations, National Arts Strategies has a portfolio of programs that carry with them varying degrees of risk and return.  When we know that something's working well, we can keep it running with the occasional tweak or update and that enables us to maximize return on investment without much risk.  However, as we identify emergent needs among the leaders we serve, we punctuate our steady state of operation with the arduous, iterative and sometimes chaotic process of developing a completely new initiative.
Developing a new program can be scary because most of the time there's no beaten path to walk upon.  It is a challenge to determine the right amount of advance information-gathering to do in order to balance time investment with driving the project forward.  And even after a reasonable amount of research, we can never be entirely sure that the project won't sink.  In a word, doing new things is risky.
The Summit at Sundance is an NAS experiment about experimentation.  Why is it an experiment?  The convening – a departure from our normal university faculty-led and co-designed programs – is driven by participant-generated content and relies on a carefully crafted structure, designed and managed by the NAS team.
We are purposely deviating from a model that we know to be successful in order to best respond to a need we see in the field: the opportunity to use the innovation process to work on pushing ideas forward from the point of inspiration to planning for implementation.  You don't have to look far to find inspiration to think big.  TED lectures fill our need for hearing about awe-inspiring new concepts, but as websites such as 99u point out, the challenge for all of us comes with the "doing" part.
Leaders in our Chief Executive Program have echoed this thought, asking for the time, space and resources (each other) to not only generate ideals for tackling the toughest problems they face, but also to plan the first few steps of putting potential solutions into action.
At The Summit at Sundance, the NAS team will lead a process that can be used in any organization to push innovative ideas forward.  Participants will work on four specific problems that are prevalent in the field of arts and culture.  We arrived at these four problems through a collaborative design process of asking what our audience felt were the most pressing challenges, and by deeply analyzing their responses (see later posts from my colleagues for more on these problems).  Based on the responses, we also created a mind map of issues facing this community.  This visual representation helped to demonstrate where leaders are focusing their attention, and helped establish links between seemingly disparate organizations.
The convening sessions follow the basic outline of the innovation cycle: brainstorming, selection and implementation.  The process is as follows:
We begin the first day with brainstorming sessions in small groups, generating ideas on possible solutions to the four problems.
From there, leaders will have hundreds of ideas to look through, and select those that they find most compelling.
Finally, leaders will have the chance to work in groups on moving these concepts forward.
For the final stage of the convening, we emphasize the importance of testing ideas early and often – and not being afraid to loop back and scrap the current idea for a new one if necessary.  It's very similar to the scientific method, where a hypothesis is formed, tested and modified in a cyclical fashion.
Our belief in this process is so strong that we used it to design The Summit at Sundance.  From experience, I can tell you that this last stage is not an easy thing to do.  After weeks of work, we've had to go back and overhaul certain segments because they simply didn't pass the test.  This meant more work for our team, not to mention the emotional resistance to parting with an idea that had once seemed so perfect.
So is our program design now guaranteed to be awesome?  All the double checking and re-working we've done internally has boosted our confidence in the program's suitability for our audience.  Also mitigating risk is the collaborative nature of the process we used for arriving at the four focus areas of the convening.  The final test will be come next week, when our Chief Executive Program leaders arrive in Utah for The Summit at Sundance.  Our hope is that leaders will leave not only with fresh ideas, but also the first steps of a plan for getting those ideas off the ground.  We also offer the convening's structure (brainstorming, selection, and moving forward) as a useful process leaders (including Field Notes readers!) can use when solving problems in their own organizations.