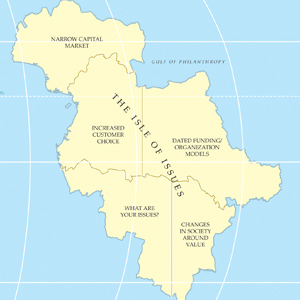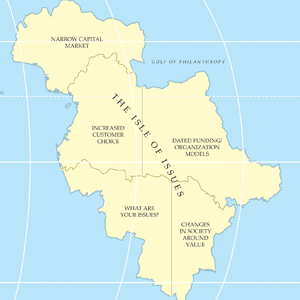 How do you incorporate feedback from audiences, donors and other stakeholders to design a season, exhibit or service? This is a common question among cultural organizations striving to become more relevant and inclusive, and NAS is right there with them.
Throughout The Chief Executive Program, we heard from leaders that they desired the time work together to find solutions to their toughest challenges. We knew that we wanted The Summit at Sundance to be the place for participants to do just that. Our task was to figure out the "how" – How do you take the challenges faced by leaders representing 100 organizations and boil them down to four problems to solve? How would we ensure everyone had a stake in these conversations, and that they weren't specific to one leader or discipline? How would we ensure that these conversations were productive? How would we ensure everyone was heard, but avoid having "too many cooks in the kitchen?" My colleague Sunny shared yesterday about the process we designed to tackle the question of productivity and today, I'd like to talk about how we arrived at the four issues we'll be exploring over the coming weeks.
After some careful thought about our objectives and the evaluation of many ideas about how to bring chief executives into the design process, we decided that the best way to get an all-encompassing picture of the challenges faced by the leaders in our program would be to create a mind map – a graphical representation of the issues most important to the cohort. This map would enable us to find the major interest points and see how the interests of these leaders fit together. It was our hope that, by understanding these issues in relation to one another, we could design an event that would be valuable and relevant to our entire Chief Executive Program cohort.
The information we gleaned from this process gave us a deeper and more nuanced understanding of the issues faced by these leaders. This understanding not only allowed us to have more productive and informed discussions around program design, but it helped leaders better understand each other and identify possible connections. In building the mind map, we realized that this was a tool we could employ for future programs. We also feel that organizations of all sizes and purposes could use this low-cost process to gather valuable insights that will help them better understand stakeholders.
How did we do it? The process of gathering information and creating the mind map involved opening a dialogue, analyzing what we heard and using what we learned to design one of the key elements to this convening: four problems to solve. Here are the steps:
Talk to your community.
The first step was simple. We asked leaders to share with us the issues they most wanted to discuss during The Summit at Sundance. In this activity, which required minimal time investment (something very important to this group), each leader provided up to four issues, with a title and a few sentences describing the issue. We think having this information will be useful not only for planning Sundance, but also in helping us better serve these leaders (and others) in the future.
Explore their ideas.
Our next step was to get our nerd on. Our work has taught us that an issue can be best addressed by investigating the root causes. So, we got nice and friendly with the issues, looking for the core problems in each statement, as well as additional themes and issues to which each statement could be related. We examined and debated the issues, making sure we had properly classified each one. We ended up with several "nodes" that helped us see which issue areas were most important to this group.
Organize the ideas.
We then took this data and used it to create the mind map, using each node as the central point to connect a range of ideas related to that issue area. While time consuming, this part of the process gave us another opportunity to become familiar with the issues most important to our executives – something that I think will be instrumental in making The Summit at Sundance a valuable and productive experience.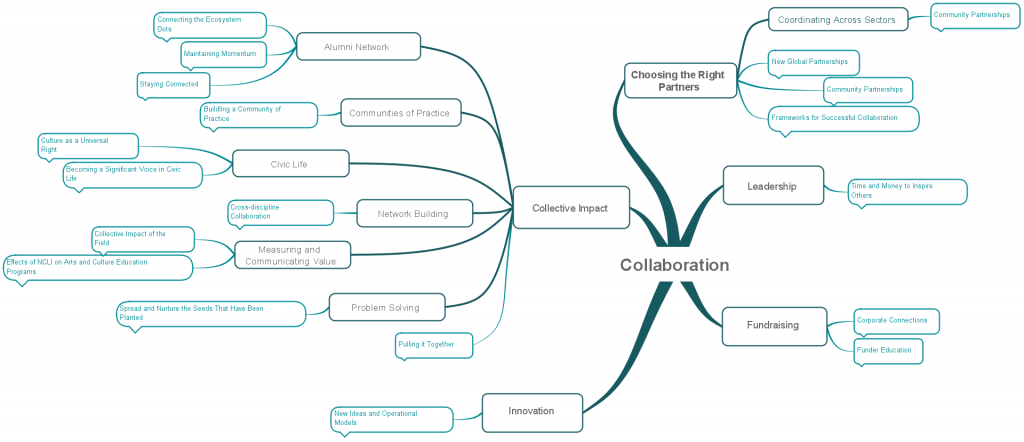 Explore the complete mind map »
Ask for feedback.
We sent the map to our executives so that they could get a clear look at all of the issues submitted by their colleagues, but also to give them a chance to let us know if we got things right and to submit additional ideas or thoughts inspired by the map.
Take action.
After incorporating the feedback we received, we were able to identify four areas that we thought would be best suited for productive discussions at our convening. From here, we explored the issue statements represented by each area, and developed four problems to solve. These problems are designed to be broad enough that each leader can find them relevant to their work, but they also ask specific questions that prompt leaders to develop actionable ideas.
Starting tomorrow, we will preview our four problems to solve and provide some background to help you start thinking about the issues leaders will discuss at Sundance, and that we hope you'll discuss with us here at Field Notes.
I think the applications of this relatively simple way to gather feedback could be quite vast. For example, I can envision performing arts organizations soliciting feedback to help influence their season planning. The point wouldn't be to have audiences tell you what to program (we hear all the time that what customers say they want or need isn't always accurate), but to analyze the themes and interests represented in the feedback they give, then use your expertise to provide a season that is exciting and engaging. Digging into audience suggestions might help you think of repertoire with similar attributes that suits your mission and vision, but is also relevant to a large group of stakeholders. How would you use this process to influence your work?