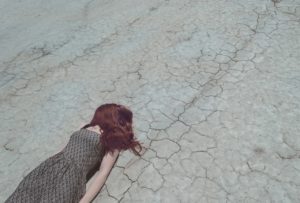 For years, I've wanted to create something that would capture the sense of helplessness I feel in the face of horrific onscreen images, the kinds of clips that 24-hour news programming seems to specialize in. Over and over I have had the experience of watching something I couldn't bear seeing, powerless to intervene, and it struck me that I was just one of millions observing the same events, unable to do anything to stop them. This seems like a very recent and potent experience for humanity, an experience we have not yet really come to terms with.
I've just completed a trio for soprano, flute and piano called We saw her fall.   Using just seven words to describe an ambiguous image — one that could be physical, emotional, or metaphorical; a scenario that could be life-threatening or a simple stumble – I let the music slow the passage of time to a standstill, locking the listener into the moment of observation.
Over the course of six minutes, the text — we saw her fall, her arms extended — is looped and fragmented, with the piano and flute creating a shimmering halo effect around the soprano line.  The last syllable is heard only once; other repetitions end with "n," the last syllable being the word that cannot be said.
I have some friends who are investigating a possible premiere – how lucky I am to have such friends! – which frees me to move on to the next composition.  I used to have to expend a lot of energy on that end of things, and I still do occasionally, but fortunately less and less.  Here's hoping they find success.