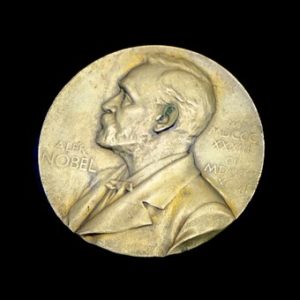 Bob Dylan won the Nobel Prize for Literature this year, and discussions ensued: why him?  These discussions are understandable and mostly reasonable, and they are good discussions to have.  But at the same time, it's important to note that these discussions happen every year with every winner, whether it's Nobel or Pulitzer or any number of lesser known awards.
Maybe we should shorten this annual question from "why was s/he the one?" to "why one?"

In any given year, there are hundreds, if not thousands, of writers who deserve recognition for their extraordinary work.  Hearts and minds are transfigured every day by literary accomplishments from all over the globe.  Isn't it arbitrary to single out one voice every 365.25 days for a prize?  Why not 43 winners a year, or a winner every 43 days?  In what way does the earth's position in relation to the sun indicate that it's time for one person to be selected for this recognition?
We know the answer to that last question: ancient civilizations relied on specific nodes in the earth's revolution for their survival, and marked these nodes with festivals: solstice, equinox, etc.  The habit of finding significance in the passage of 365.25 days is so deeply ingrained at this point, we celebrate some annual event pretty much every day of the year.  So choosing one artist per year makes sense, at least temporally.
But why not choose ten?  We know the answer to this as well: Ten winners aren't special; one is.  Why can't ten be special?  Or a thousand, for that matter?  I'm not sure I can articulate the answer to that one without sounding a tad foolish.  After all, is it more meaningful to single out one outstanding artist, or to annually acknowledge the sheer volume of wonderful artistic achievements ready to enchant us, whoever and wherever we are?
Okay, I know there is cash involved, and not enough to split among a thousand winners.  I suppose money is a secret driving force behind all artistic evaluations on some level, but it still important to bear in mind the arbitrariness of one artist per year.  We may be stuck with it, and it may be, in many ways, a good thing.  But it's still worth questioning.
On a side-note, I can't understand the Nobel authorities' outcry over Dylan's response to the prize: as far as I know, it's not called the Nobel Prize for Politeness.