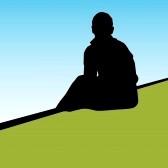 A few months ago, a friend informed me that he was including my Mister Blister on an upcoming program of unaccompanied violin music called Solitude.  I have a happy relationship with Mister Blister, which I wrote maybe ten years ago, but the notion of solitude stuck in my head, and I asked if I could write him a new piece with that title.  He said by all means, and now the piece is done.  It starts with a drifting, atmospheric line that after a minute or so morphs into languorous blues.  Once that shift is apparent, a gradual acceleration takes hold, and within six minutes it has become a frenzied dance.
In any composition, to a certain degree I am drawing on techniques that are very familiar to me while simultaneously trying out new directions, or pushing familiar techniques in unfamiliar directions.  Finding the right balance among those attitudes is second nature at this point.  There is a cusp at which I am able to challenge myself technically while leaving considerations of technique behind so I can completely focus on artistic matters.  In this case, the technical challenge is creating an extended acceleration that impels the music forward in a way that feels both inevitable and unpredictable.  The artistic matters have to do with solitude, which I find very comfortable and stimulating, though I can't help but note that certain kinds of solitude, or isolation, can lead to the atrocious acts of violence we seem to encounter more and more frequently.
All of those issues, technical and artistic, should find themselves influencing every moment of the composition, if I'm doing this composing thing the way I would like.
Haven't shown Solitude to my friend yet, but I imagine I will within a few weeks.  Then, possibly, it will get a premiere in December.  Or maybe December will bring another visit with Mister Blister.  Seems like a win-win scenario to me.