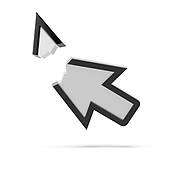 Many of the most interesting developments in musical form over the last few decades have featured explorations in non-linear progression.  Influenced in part by the implications of Relativity theory, but equally by the ease with which filmed narrative can shift us back and forth in time, composers have sought ways to manipulate notions of linear time, finding lovely juxtapositions and surprising destinations in the process.
As much as I love contemplating the multiverse, though, I can't help wondering about the yearnings behind this way of viewing time.  Is it unkind to see it as a form of denial?  Viewing time as non-linear certainly doesn't change the fact that we are all mortal, that every minute brings us one minute closer to our end.  Seen from that perspective, life could hardly be more linear, more unidirectional.
Ultimately, I understand that this way of thinking is simplistic and reductive, but it nonetheless keeps me suspicious of being seduced by trends in non-linear composition.  That's not to say that there aren't wonderful things being accomplished by composers in this vein.  I suppose it's similar to the way I view Bach or Messiaen: I don't buy for a minute their views in the spiritual realm, but I love the music that grew out of their spirituality, and I recognize that music could not have happened in the same way if they weren't 100% committed to their religious beliefs.  Since I don't share those beliefs, though, it would be foolish for me to try to write that kind of music, just as I can't fully commit to the idea of writing music that is somehow non-linear, as much as I may admire the works of those who can.
***
Unrelated note: anybody know of a good way to post musical examples (notes on staff, not sound files) on WordPress?  When I turn them into jpegs they are too fuzzy.