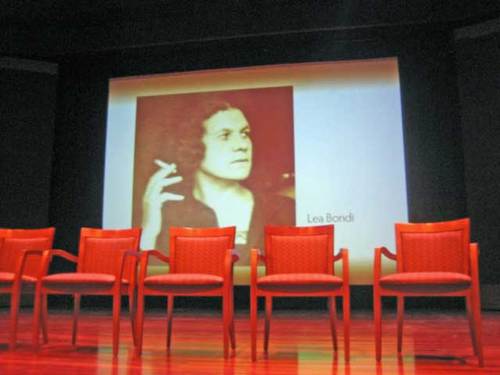 The stage is set: Photo of Lea Bondi
[More on the settlement, here and here.]
The lobby of the Museum of Jewish Heritage in New York had the festive air of a Bar Mitzvah reception, sans liquor and hors d'oeuvres, with perhaps 50 farflung Bondis from all generations reuniting for the ceremony celebrating the $19-million settlement from the Leopold Museum, Vienna, to the heirs of Lea Bondi Jaray, the Austrian Jew from whom Egon Schiele's "Portrait of Wally" was wrongfully expropriated by the Nazis in 1939.
Although aware of the dangers of staying put during the Nazi era, Lea had resisted leaving Vienna without her cherished painting. She relented at the wise insistence of her husband, but spent the rest of her life trying to reclaim her still astonishingly luminous masterpiece, which cast its spell on me today at a press viewing before this morning's commemoration of her memory and celebration of the settlement: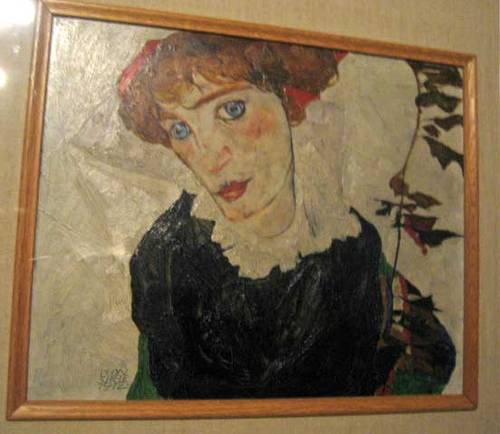 Egon Schiele, "Portrait of Wally," 1912
Before providing my own information and commentary (in a subsequent post), I yield the floor to two of the speakers at this morning's gathering. First, Andre Bondi, Lea's grandnephew, who spoke movingly and emotionally of his father Henry's efforts to right a historic wrong. When Andre tearfully ended with a description of his late father's reaction to a favorable legal development in the protracted case, there were few dry eyes in the house:
Next come comments from former Manhattan District Attorney Robert Morgenthau, whose 11th-hour subpoena (subsequently quashed), temporarily prevented the painting's being returned from an exhibition at the Museum of Modern Art to its Austrian lender, Rudolf Leopold, buying time for prosecutors to put together a plausible legal case for restitution.
In his remarks, Morgenthau hit a couple of off-key notes: He called his desperate attempt to restrain the painting a "Hail Mary." (I admit, though, that I can't come up with a good Hebrew or Yiddish equivalent.) More surprisingly, in comments that came before those captured in my video clip, the D.A. extended his thanks to the Leopold Museum for agreeing to the settlement. Had he perused the jarringly unconciliatory statement issued by the Leopold Museum Private Foundation (more on that in a subsequent post), Morgenthau might have been a bit less thankful. [UPDATE: When I last checked, the above link to the museum foundation's statement had ceased working. But, for now, you can find the statement by going here and then clicking on "Portrait of Wally Returns to Vienna."]
I happened to share the elevator with Morgenthau as he headed from the ceremony to the gallery where the painting is displayed (through Aug. 18, after which it will return to the Leopold Museum).
Suddenly, a strange thought occurred to me:
Q: Mr. Morgenthau, have you ever seen the painting?
A: No, I haven't.
I couldn't quite believe it, so I asked again as we walked towards the gallery:
Q: You really never set eyes on the painting, during all the years when it was in storage?
A: No.
So it was with great anticipation that I hoisted my mini-video camera for the fateful encounter.
Here's what I saw:
He walked right past it! He never so much as glanced at the comely "Wally," focusing instead on the other luminaries with whom he was about to share a photo-op. At the end of the above clip, you can hear him telling Preet Bharara, U.S. Attorney for the Southern District of New York, "Someone asked me if this was the first time I saw it."
Here are the museum's director, the heirs' spokesperson and assorted legal honchos, ready for their close-up. ("Wally" was to the right, beyond my camera's range.)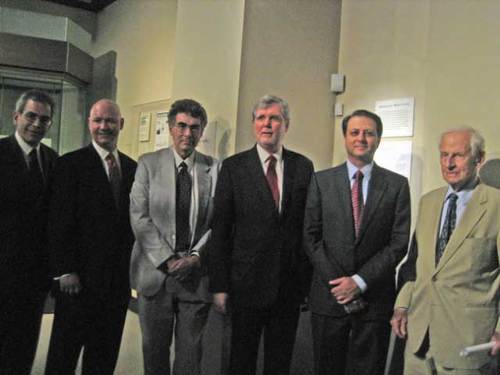 Left to right: David Marwell, director, Museum of Jewish Heritage; James Hayes, special agent-in-charge, U.S. Immigration and Customs Enforcement; Andre Bondi, Lea Bondi Jaray's grandnephew; Howard Spiegler, attorney for Lea Bondi Jaray's estate; Preet Bharara, U.S. Attorney for the Southern District of New York; Robert Morgenthau, former Manhattan District Attorney and current chairman, Museum of Jewish Heritage
Although I had stopped filming, I watched Morgenthau's face the entire time. As far as I could see, he never set eyes on the breathtaking masterpiece that had been the object of his quest for justice.
As we exited the gallery together, I couldn't resist asking Morgenthau if he had looked at the painting. He quipped:
Beautiful. It's one of my best works!
In a sense, I suppose, he was right.

COMING SOON: Some offstage heroes of the "Portrait of Wally" settlement.