[contextly_auto_sidebar]
LAST week I took a wild guess and approached singer/songwriter Aimee Mann for my musicians-on-writing column, All the Poets. As a longtime fan I had a vague sense that she was literary — whatever that means — but could not recall a specific reference to a novel or poem in any of her songs. Nor had we talked about books of any kind across the several interviews we'd done over the years.
I'm pleased to say that Mann was not only game to discuss her love of reading, which goes back to early childhood, but ended up being one of my most engaged and unpredictable subjects yet. She also turned out to be a huge F. Scott Fitzgerald fan, a lover of psychology, and to have an interest in several unfashionable writers whose names I rarely hear.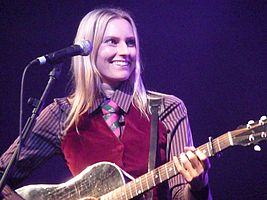 Our conversation just went up this morning on the Los Angeles Review of Books site, here.
And I'll be at the Greek Theater tonight to see Mann open for Jason Isbell.