[contextly_auto_sidebar]
I'M hardly the only Gen Xer to grow up on Mr. Rogers' Neighborhood, a show that first aired about a year before I was born. Part of me thinks that my fondness for the program comes from the fact that my frequent viewing companion — my maternal grandmother — was, like Rogers, a Pittsburgh Presbyterian. But Rogers and his show imprinted itself on all kinds of people, from all kinds of places: I suspect many of them felt, as I did, that he was speaking directly to them.
In any case, guest columnist Lawrence Christon picks up the story a bit later, and describes a wrinkle I did not recall. Here he is.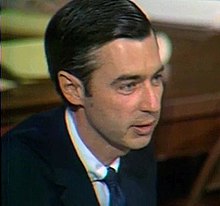 THE NIGHT AMERICA CONFESSED ITS LOVE FOR MISTER ROGERS
By Lawrence Christon
The nationwide release of Morgan Neville's documentary, "Won't You Be My Neighbor," the story of PBS' "Fred Rogers' Neighborhood," has unleashed a considerable amount of editorial anguish over an American lost innocence, particularly in contrast to our venal age as personified by Donald Trump.
Rogers, the subject of "Won't You Be My Neighbor," has been held up as the better angel Abraham Lincoln evoked in his hope for a definitively blessed American character. "Simple and deep" was Rogers' constant theme, as he emphasized—particularly to children–the irreducible integrity, worth and uniqueness of every human being alive, however lonely, frightened, bewildered and even scorned.  "The world desperately needs more people like Fred Rogers," has been the consensus. "We wish he were still with us" (Rogers died in 2003).
Wrote David Brooks in The New York Times: "His show was an expression of the mainline Protestantism that was once the dominating morality in American life…Rogers was drawing on a long moral tradition, that the last shall be first. It wasn't just Donald Trump who reversed that morality, though he does represent a cartoonish version of the idea that winners are better than losers, the successful are better than the weak. That morality got reversed long before Trump came on the scene. By an achievement-oriented success culture, by a culture that swung too far from humble and earnest caritas."
Audiences weep during the film. Hardened journalists write of how disarmed and even intimidated they felt at meeting and interviewing Rogers, an ordained Presbyterian minister who never talked about God in his show or in his public discourse, instead emphasizing what he told children, in one way or another, every day it aired: "You make things special just by being you. I like you just the way you are." Asked by a PBS Newshour interviewer, "Was he the real deal?" Neville, a former neighbor to Rogers in Martha's Vineyard replied, in effect, "I never saw anything to indicate that he wasn't. I'd have to say, yes, he was."
Aside from his target audience of children however—estimated at one point to number a third of all the pre- and elementary school kids out there—Rogers was not always the object of such unqualified devotion. Quite the opposite, in fact. The first airing of "Mister Rogers' Neighborhood" took place on February 19, 1968, on Pittsburgh's National Education Network. It was produced on a budget of $30, but was quickly picked up by PBS affiliates all over the country. It seemed a wonderfully safe, low-key, harmless break from a country boiling over with counterculture anger and protest, campus and street demonstrations and bloody fights with police (as in the Democratic National Convention in Chicago) and the bitter division over the war in Vietnam.
Rogers stayed out of politics, but he couldn't escape the tyranny of hip, which began in the mid-to-late '50s with cool jazz, rock 'n' roll, heroin and weed, the celebration of the rebel and anti-hero (as in Brando and "The Wild One"). By the '70s and '80s, hip came indoors to the corporate suburban world, hardening into a general reflexive attitude of irony and derisive posturing that remains de rigueur. As the novelist Ottessa Moshfegh recently described, in a New Yorker profile, the insufferable hothouse atmosphere of literary Brooklyn:  "…you have to break the mold, blow people's minds, do it perfectly, and then not care. Because if you care you're not cool, and if you're not cool you're shit."
This does not describe Fred Rogers.
Clearly his respect for children, and his gentle insistence that every one of them had an unarguable reason for being on the earth, had given him some kind of widespread appeal. But the nature of his show, simple, slow, warmly reassuring, infinitely patient, unfailingly kind—itself childlike–seemed the antithesis of hip. When he first came on Johnny Carson's Late Night Show, Carson, with his subtle protean array of tics, twinkles, smirks and expressions that signaled to an audience what to think of a guest, labeled Rogers some kind of well-intended rube. For decades, and for those self-consciously compelled to be in on the latest thing, the label stuck.
On a single night, with one sudden gesture, all that changed. On January 6, 1993, Arsenio Hall called Rogers out on stage for The Arsenio Hall Show. At first sight of Rogers, the mostly young Paramount Studio audience sent down that faintly derisive cheer that had become standard for people who considered themselves superior to him and his kidstuff. But Hall raised his arm, the palm of his hand facing outward: Stop. This is Mister Rogers in the house.
Instantly the audience's tone changed, from snark to something more wholesome, more deeply heartfelt. It was as though every one of them was instantly transformed into the child each had been, home alone maybe as a latchkey kid, uncertain, anxious, full of questions about the scarifying world looming all around them, little questions like learning to tie shoelaces, big questions like death, divorce and the murder of a public figure. And there was Mister Rogers in front of them on TV, talking to them directly as if they were alone together, making them feel safe and cherished and an important part of a beautiful neighborhood. They cheered because they couldn't bear to cry. He'd been their special friend who never let them down. And now he was part of their neighborhood, Hall's Dog Pound. Hall even gave him an official jacket. Best of all, as they listened to him speak, they saw that he hadn't changed. After that night, it seems, to snicker at Fred Rogers was not a smart thing to do.
We hear plenty about the force of evil, because it's always more shocking and unexpected, more lurid and inexplicable. But you have to wonder about the force of good as well, whether in the small acts of kindness and courtesy we experience every day, or the more heroic demonstrations of courage and ingenuity as shown by the strangers who came from all over to rescue a group of kids from a watery cave against all odds. Is goodness more like white noise, steady and unobtrusive, there for us, within us, ready to answer to an appeal? Is it a power too? Fred Rogers would make us think that it is.