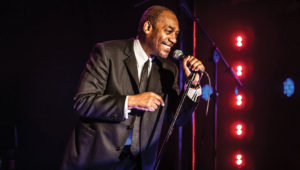 [contextly_auto_sidebar]
WHEN I moved back to Los Angeles about a year ago, I was not surprised that the cultural life was rich and wide-ranging. But one spot surprised me: The Wallis Annenberg in Beverly Hills. I had covered some of the early planning for the LA Times, and had liked both architect Zoltan Pali, working to transform a WPA-era post office, and director Lou Moore, who like me is a blue-crab-loving Marylander. But getting things going took longer than expected; Pali and Moore left the project, and I basically forgot about it, to be honest.
So when I started going to The Wallis last season, I was amazed not just at the building and the space — a lovely courtyard, complete with sculptures and landscaping, much of the original 1933 building, inside and out, retained — but the programming.
Somehow, an arts center in Beverly Hills was bringing in not the Broadway road show and dinner-theater offerings I'd expected but finding programming that sat pleasingly between the mainstream and what we used to call the cutting edge. Paul Crewes, who had headed Britain's Kneehigh Theatre, arrived last year, and brought in both a radical kid's play by his old group, an energetically eccentric take on Shakespeare, a Brooklyn Rider concert that includes a Philip Glass quartet, and a four-handed reading of Stravinsky's Rite of Spring by two of my favorite pianists, Marc-Andre Hamelin and Leif-Ove Andsnes, that made me feel like I was hearing the piece for the first time.
Over the weekend I went to see "Turn Me Loose," a (mostly) one-man show on the life and times of Dick Gregory, with actor Joe Morton as the great civil-rights-era comedian. I am not going to be able to do justice to the show, which began with his reflections on his youth in St. Louis, and moves through a Gregory monologue from the early '60s, his appearances on television and at the Berkeley's hungry i, through a farewell speech around the time of his death, in August of this year.
Gregory is best described as a comedian, but his engagement with politics, especially racial politics, was not always funny. Like a lot of African-American artists, he struggled with larger questions of how "entertaining" a black audience should be with a largely white audience.
There were some comments about the strange state of contemporary American politics and race relations, but it never seemed forced. In fact, Gregory's rage seems well-suited to the age we're in.
Unlike the other shows I've seen at the Wallis, this was in the smaller theater, a black box tricked up with tables to feel like a jazz club. This was an intimate and electric way to relive those years, and Morton and his offstage team took full advantage of the space.
"Turn Me Loose," which was held over for an extra few weeks from its original two-week run, is a knockout. It runs through November 19; I'm keeping my eye on the rest of The Wallis's schedule as well.