[contextly_auto_sidebar]
LAST night, seeing Gillian Welch and Dave Rawlings play their last real LP, 2011's The Harrow and the Harvest, at the Orpheum in downtown LA, I realized that this was not just a record that I liked, or one that had made me play around with a couple of its songs on guitar, but one of the finest and most timeless albums of the last decade.
It's got songs like Scarlet Town, Dark Turn of Mind, Down Along the Dixie Line, and The Way the Whole Thing Ends, all of which grow in liver performance.
Here is the LA Times piece I wrote on the two, when Harrow came out six years ago and after hanging out with them for a few hours.
This is a piece I ghosted with Gillian for Salon; here she talks about her interest in scary old folks songs. "This tradition connects with why people make art – to deal with the gnarliest, most painful events that occur. Things beyond your control, almost beyond human understanding."
I look forward to more cheery and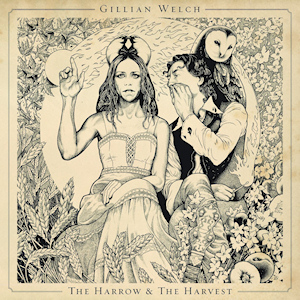 uplifting work from Gillian and Dave.