SOMETIMES — certainly not always — it makes sense to take a chance and see something you have very little sense of. Because I had the night free and knew/ liked some of the people involved, I went Sunday night to the final concert of a weekend-long chamber-music festival (or something) in Los Angeles's Silverlake Hills. I figured there'd be a cocktail party for a few dozen of us and perhaps a quartet playing something modern and fresh.
The event turned out to be far larger, wilder and more unorthodox. A hilltop mansion, like something out of a '20s film, spilled out with more than 200 people, taking in the dry-autumn views by the pool, wandering around the huge foyer, and checking out the sculptures and paintings.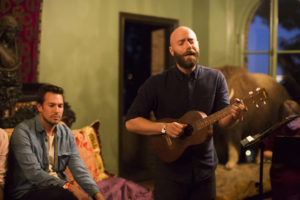 Once the show started, musicians started playing in six or seven rooms and this became what a musician friend termed a "wanderfest," with all of us drifting from wing to wing to see, oh, a chamber group, a musician making music with a series of empty glasses on a bar, or a minimalist set of beats. Here is the program for whole thing.
It was all too dreamlike and atmospheric to do justice to in description. (I will acknowledge that due to the large crowd and sometimes small rooms, I got to see a lo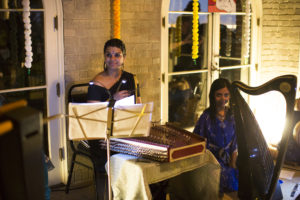 t of it from beyond a doorway, without perfect sight lines or ideal acoustics; this would not have been everybody's idea of a good time.)
But some quick observations:
++ For decades, one of the biggest rifts in Los Angeles has been between the "arts" folks and people who work in "The Industry," which means entertainment. There's a longstanding and tribal opposition. Part of what was interesting here is that many (most?) of the composers involved worked scoring films, but are interested in doing more intimate/ classical/ whatever work as well. These may have been conservatory kids who ended up writing for film; in any case the crossover felt rich and unforced.
++ Years ago, then-head of UCLA Live, the Englishman David Sefton, and I used to routinely lament the fact that new classical music did not have the same kind of young/ hip audience that contemporary art did. (The audience for new compositions was significantly older and often socially awkward.) This showed a crowd, here in LA, coming out for something that wsa at least 3/4 classical. And while it was party a social thing, this makes it no different than the original chamber music that evolved in the 18th and 19th centuries.
++ One highlight for me was Dan Romer — a film composer known for Beasts of the Southern Wild and the Idris Elba-starring Beats of No Nation. He sang in front what I think was a violin, cello, and double bass, also playing a ukelele and accordion as he belted out a surreal tale of an unborn son. The whole piece, presented with an eerie kind of commitment, reminded me of Sufjan Stevens and the last few Decemberists records.
++ My other favorite was the group led by Amritha Vaz; this was a traditional Indian music — complete with tabla drum and what I take to be Hindi singing — taken, at times, in a Bollywood direction. Is the Theremin typically part of Indian films? In any case, this combination worked and had a spellbinding effect.
++ The consensus from friends was that Sunday's highlight was Reggie Watts, a German-born musician/ comedian/ bandleader/ "disinformationist" who is hard to sum up. In any case, his ability to lead the band on James Corden's TV show and to offer looped beats the other night gives me meaning to the overworked term "eclectic."
In any case, very much looking forward to what this group, which has been around for several years but never put on an event as large and ambitious as this one, comes up with next.