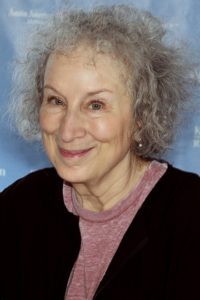 [contextly_auto_sidebar]
TYPICALLY, the PEN awards, held at a fancy hotel in Beverly Hills, ends up as one of the best parties of the year for literary and journalistic folk. The group and its events, of course, also have a bloody point to them: PEN is, mostly, a free-speech group, and its annual banquet is an attempt to honor artistry and freedom of expression and to raise money so they can do it again next year. (PEN USA was once known as PEN West, to distinguish it from the New York-based PEN America; the current LA-based group has ties to Hollywood but is hardly just an association for screenwriters.)
In the spring of 2015, the East Coast PEN was torn with internal tensions over an award to Parisian magazine Charlie Hedbo: Even here in Los Angeles, last fall, it was hard not to hear echoing cries and denunciations that split what we could describe as free-speech liberals (Salman Rushdie was the fiercest of the group) vs. a small, outspoken group incensed by the magazine's supposed bigotry. (This was either an updating of old quarrels on the Left or a dry-run for he larger tensions were are seeing today.)
In any case, this year's gathering, Friday night at the Beverly Wilshire, was not only free from obvious partisan rifts, but took on a fierce sense of purpose I don't recall before.
With a clean-shaven Nick Offerman, the burly Parks & Recreation star, emceeing, and major awards going to Margaret Atwood (author of Theocrat dystopia The Handmaid's Tale) and the team of New York Times reporters who broke the long-rumored Harvey Weinstein sexual-harassment story, this was a rare chance to feel good about the bad stuff swirling through American culture right now.
There may be awful things afoot, we thought at as we sipped Chardonnay and ate our roast chicken, but at least somebody is paying attention. (Whether that is enough is a question I cannot answer.)
So while PEN USA often gives its major awards to people overseas, typically in autocratic states — African writers who risk exile or death, journalists who have survived imprisonment in the Middle East — this year much of the emphasis was on brave folks here in Donald Trump's US of A. (These included, as well, Janet Mock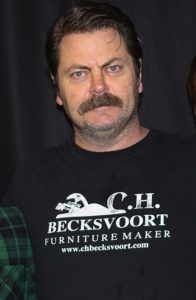 , the mixed-race trans-woman who is the author of bestselling memoir Redefining Realness.)
This event, like the others I've attended, was smooth and well-executed, with winners' speeches never reaching Oscars-level solipsism. Offerman's delivery is famously ironic. But he was a solidly authoritative host here, offering both comic relief and good-natured expression of purpose, as when he described "the freedom or people to express themselves — it's not something we should ever take for granted."
(When I interviewed Offerman about his then-new podcast a few days after last year's presidential election, he expressed nothing but frustration over our new president and his intolerant policies.)
Chelsea Handler was a bit more pungent. "Good evening, fake news, mainstream media, you suckas! I'm Kellyanne Conway!" (She went on to speak about sexual bullying by Bill O'Reilly and Weinstein.)
The Freedom To Write Award went to the New York Times' Emily Steel, Michael S. Schmidt, Katie Benner, Jodi Kantor, and Megan Twohey, three of whom attended. (Interesting to note: The Times' top editor Dean Baquet once helmed the Los Angeles Times. The New Times team emphasized how hard Baquet pushed for difficult investigative reporting on the story, despite the fact that numerous news orgs have struggled to nail it down for years. In other words, if the mediocre minds of the Tribune Corp., has not so badly mis-handled the LA paper during Baquet's time there, provoking his resignation, this scoop likely could have come from Hollywood's hometown paper. Baquet, for what it's worth, hired me here in LA when he was managing editor.)
Much of the buzz at the event was around the appearance of Atwood for her lifetime achievement award. (The television adaptation of The Handmaid's Tale has become a rallying point for those disturbed by the sexual politics emanating out of the White House these days.)
Atwood's address was brief but effective: She talked about her involvement with the Canadian PEN going back to the '80s, when the group was fragmenting into English and Francophone arms. She never though, she said, that the group would have to work so hard to defend freedom of speech in nations like the US and Canada: These days, though, it can be hard to tell whether what we see online comes from a professional troll, the agent of a foreign government, or simply a 'bot.
She's also disturbed by the current censorious impulse of the Left. "Both sides attempt to shut down organizations like PEN, so old-fashioned in their rationality."
Because the bash is held in Beverly Hills, it often attracts strange characters, like the older man at my table who asked everyone who sat down if they knew any movie producers who could get his movie made. These folks are easy to avoid though.
I try not to use words like "inspiring" when I can help it, but this year's PEN banquet seemed to be very much on the right track.