[contextly_auto_sidebar]
YOU can never really have too much Otis Redding. The great R&B singer and songwriter died in a plane crash in 1967, at just 26 years old, and just about everything he recorded (included his radio spot for "Stay in School") is worth hearing. So it's good news that a legendary set of concerts — his April 1966 shows at the Whisky a Go Go, which have been available in various forms for years — has been expanded and cleaned up in a new six-CD box set.
Recently, your humble blogger spoke to Lynell George, a veteran Los Angeles journalist who wrote the liner notes to Stax Record's Live at the Whisky A Go Go: the Complete Recordings. Don't miss it.
Of all the major figures of soul music — Ray Charles, Sam Cooke, James Brown, Aretha — Otis Redding had the shortest career. But it's hard to imagine that genre without him. What did he do that no one else could do as deeply or as well?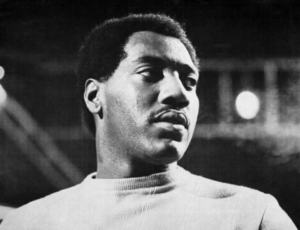 I often think of singers' voices in terms of shades and or textures — moods I'm reaching for in certain moments. Redding brought a deeply emotional, rawness to settings. It's palpable. There's nothing slick. It's work, work, work. Everything that was interior was in full view in his voice. That's what was so charged about it. And truly in a certain way because he was so adept of going so deep, expressing longing, pain, regret and ESPECIALLY VULNERABILITY — his voice defined "soul."  He was "Mr. Pitiful" for a reason.  As well, you'd hear in those vocal textures the rural South and church etc. mixed in with city, so he was also symbolic of a change that was happening politically and culturally for African Americans as well.
Otis was from Georgia and recorded at Stax in Memphis, but I wonder if Los Angeles and perhaps California had a special meaning for him, because of shows like this one and his breakthrough at Monterey. 
He slipped in and out of Los Angeles, but I think what was critical at this moment of his career was stepping from "stardom" to "superstardom" and he knew that California — Los Angeles  —  in particular, might be the essential ingredient to make that happen.  By the time Redding arrives in L.A. for the Whisky gig, he's being played on stations across the dial, but his hope was that this tour would give him that momentum that would move him into a place where he didn't have to worry about caring for his family and  his legacy.
And too, the anticipation was thick. One of the people I interviewed for the notes, said as he stood outside hoping to get in, he watched Van Morrison step inside. Bob Dylan was also in attendance. It was the "to-see" show.
Some of these Whisky dates have been released before — what's new about this new box set?
The hope was to finally assemble all three nights in their entirety as they happened. The earlier sets were samplings that pulled together the strongest cuts or a sampling from a few nights. This one is for  the completists among us who want to hear the run — end to end from night to night to night.
Was there something special about the Whisky shows that we don't hear on his studio records and other live dates like his classic Live in Europe record?
The Whisky run is a snapshot of a moment: Not just in music history, but L.A. history. Redding was the first bonafide soul act to play at the Whisky and that brought something new. You can hear it in the crowd in certain sets on certain nights. He's working very, very hard to bring them along with him. As author Harvey Kubernick pointed out when I spoke to him for my liner notes, Otis had assembled an authentic soul revue. There hadn't been anything like that on the Strip before — it was a door that opened onto a entirely new sound and way to experience it  —  so you'll be able to hear more of that.