[contextly_auto_sidebar]
WHAT happens when you take two of the best exemplars of stage patter in modern music, set them up in historic halls with old acoustic guitars, and let them unleash a set built on classic American train songs? An oddly satisfying, even at times thrilling, grownup show that made the railroad tradition seem like a central part of the American journey.
Bragg is, of course, a veteran British musician whose style comes out of both left-wing punk and Bob Dylan's social-protest music. Joe Henry is a Southern-reared, LA-dwelling musician who is on the edges of the alt-country movement and also the producer of great albums by Bettye Lavette, Solomon Burke, and the last Billy Bragg record.
The two recently collaborated on an album, "Shine a Light," covering songs associated with Leadbelly, Hank Williams, Glen Campbell, and Lonnie Donegan, who kicked off the British skiffle fad with his cover of "Rock Island Line" (leading, of course, to a Liverpool quartet the name of which escape me.) The songs were almost all recorded in train stations of trackside while the two trained from Chicago to LA.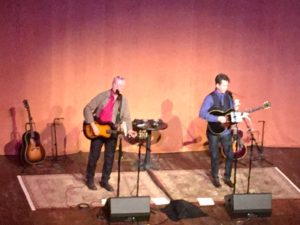 The current tour, which soon moves to the UK and Australia, mines that album quite heavily, in some cases interpreting the songs (Leadbelly's "In the Pines," for ex.) in unconventional ways. I'm fond of both Bragg and Henry, and enjoy their love of history and worship of American musical ghosts, so this was a blast for me. The Palace Theatre may be the oldest of the downtown movie palaces turned music venues: Opened in 1911, with a lot of original details and an intimate, quite vertical seating arrangement, it was a perfect place for the show.
If you wanted a pure play-the-hits Billy Bragg show,  this is the wrong tour for you. Some of my earliest club-going was as a teenager in the mid-'80s, marveling as Bragg crooned politics and poetry behind an overdriven electric guitar at DC's "old" 930 Club: Tuesday's show offered a few songs by solo Bragg, including a riveting "Accident Waiting to Happen." (Its Kinks-inspired phrase "a dedicated swallower of fascism" got an extra cheer because of a certain presidential candidate.) And I would have loved to hear, say, "Levi Stubbs' Tears."
But this was something else, and in its musically austere but emotionally committed way it was profound and luminous.