[contextly_auto_sidebar]
FRIDAY night I caught the Athens/Atlanta group Futurebirds at the Georgia Theatre. On record, they've developed a style some have called "psychedelic country," but it's also textured in a way that brings to mind the gentle lineage of lush electric-acoustic guitar rock that runs from the Velvet Underground's self-titled album through  the Feelies to Real Estate. Admittedly, these guys are a bit more Southern and swampy.
Live, Futurebirds are a stomping, reverbed-out, My Morning Jacket kind of experience. I could imagine a very good acoustic or folk-den performance by these guys, but in this mid-sized hall they were loud and anthemic, without destroying the complex guitar harmonies. The hometown show was the first supporting their new album, Hotel Parties, which is quite fine. I especially like the song "Deadbeat Hits."
I expected Futurebirds to deliver live; the surprise for me was opener Hardy Morris, well known to local indie fans for his band Dead Confederate, who draw from both grunge and country-rock. Morris was leading a side project, Hardy and the Hardknocks. I didn't know a single song of his, but just about every number connected, including the more traditional coun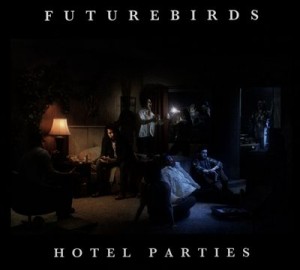 try stuff at the end. Great voice, great knack for tuneful, sometimes epic songs. (The inclusion of pedal steel player Matt Stoessel, who I saw at a low-key but satisfying show by acoustic group Cicada Rhythm, added a nice touch of sensitivity and old-school country grace.)
The common denominator of both Morris's band and Futurebirds was the electric, '70s Neil Young. Next time I want the show to conclude with an extended, all- hands-on-deck version of "Cortez the Killer."
This won't surprise anyone who've lived in Athens for a while, but the Georgia Theatre is a very good place to see a show. With very good sight lines, good acoustics (especially with Futurebirds), numerous places to hang out, including a locally beloved roof deck, this was an excellent introduction to the Athens music scene for this transplanted Angeleno.