[contextly_auto_sidebar id="HXcsgRY1unTSSqSHfianPWxQXh7bVS8E"]
RECENTLY I visited the LACMA and saw a number of shows, including the exhibit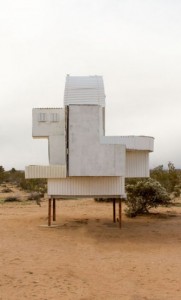 devoted to Noah Purifoy's work. Purifoy, who art critic Christopher Knight recently said "may be the least well-known pivotal American artist of the last 50 years," was a black Southerner who became a crucial part of the art movement that rose after the Watts riots.
I've known and admired Purifoy's work for years now, and a decade or so ago I visited his outdoor museum near Joshua Tree, where much of his sculpture and assemblage has been on display. This is part of what made me wonder about the LACMA show: How could work that came from a gritty, troubled part of greater LA, and set down in the high desert, make sense in the clean galleries of the LACMA? How would it stand without its context?
But another context now sits around it — the increasingly intense conversation around race and blackness in America. Purifoy's work was made in other decades, but it speaks to today. Visual art does not need to address political, social and racial issues to be important, but this work does, and that context helps it hold together in its current setting.
A brief excerpt from Knight's review:
Few of the 1966 works have been shown in recent years, so they offer an absorbing foundation for what follows. Most are modest in size — some as small as 10 inches, none as large as 3 feet. What they embody, however, is big.

The assemblages were cobbled together from the riots' debris. Purifoy and artist Judson Powell began to salvage the material in great, weighty piles — 3 tons in all. They began almost as soon as the embers cooled and the smoke cleared.
The show runs into September.