[contextly_auto_sidebar id="EdVjbY1oGn33X3u5XD2sNfMAvy9nGcGd"]
HERE at CultureCrash, we've been admirers of Matt Keating's music since we saw him play at a barbecue at South by Southwest in the '90s. I'm especially fond of his music from that period — the Candy Valentine EP is an essential document that I don't think could be improved — but he's been remarkably consistent in his pursuit of the perfect pop song. His twangy record from 2006, Summer Tonight, is full of good stuff ("Never Stop Cryin'"), and I'm digging his new The Perfect Crime.
He's an example of the many artists across the fields — poetry, the short story, jazz, etc — doing strong work without nearly enough attention.
By an odd coincidence, Keating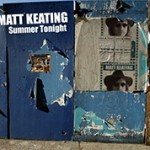 and I were in California's high desert — Gram Parsons country — at the same time about a week ago and met at Pappy and Harriet's for a few beers and bottles of sarsaparilla. I tossed the New York-based Keating some questions about his work — I urge fans of indie rock, alt-country and the post-Dylan singer-songwriter tradition to check out his work.
Tell us a little about your songwriting. How do you approach it, who are some of your model/inspirations, and how do you know when you are done?
I try to follow the old Picasso quote, "Inspiration exists, but it has to find you working" and so I really devote some part of every day to "writing" just to keep me in the game. With that said, my best songs come when I'm not working and usually when I should be somewhere else. The good ones come when I'm late for some very "important" meeting or something and should have been out the door 10 minutes before and have to leave "right now"…it just keeps inching out and making me later. My muse is high maintenance that way. When I write a song from that space it's clear when the song is done because it's writing itself. The other ones can take years. I read somewhere that Dylan said he writes a song a day because that improves his odds of writing good ones. There was a time I did that but since becoming a father it's more like 1 a week.
Most of your music sounds to me like "classical" songcraft, not because it resembles Brahms but because you're very grounded in pop history – Beatles, Byrds, Big Star and so on. What are some songs by others that you consider perfect or close to it – tunes you wish you'd written?
There are so many perfect songs out there I wouldn't even know where to begin. A really good "story" song like Pancho and Lefty by Townes Van Zandt usually is enough to humble me real good. It's usually a lyric like that or a classic tune like "King of the Road" by Roger Miller that shows me what a real standard is. I don't thing songwriting can be judged like sports—that there's some "perfect score" you can get on an objective range. There's an effortlessness to perfect songs that can't be achieved usually through traditional "hard work". I think it's more like there's a "zone" certain songwriters get in where they can access all the songs that have already been written in some Platonic song world. I love the story of how Lennon/McCartney initially didn't believe you could buy or sell the rights to a song. They felt that songs came from the air and that you couldn't really own them in the way the Native Americans who sold Manhattan for $26 thought the idea of land ownership was ridiculous. They all found out the hard way how naïve they were, though I do believe that naivete is somehow connected to the ability to access the song. I really don't wish I'd written songs by other people…I'm satisfied with the ones I've been blessed to access.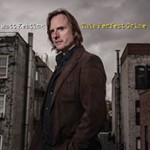 Your new album, The Perfect Crime, came out in February. (iTunes has it listed as "Americana.") What were you aiming for with this one, and did you think of it as a change of course at all?
Ha. That's funny because the Orchard who are distributing it first told me I could have two genres but then told me it was only one. I initially put singer/songwriter I think because I don't really think of that as a "genre" per se…I mean, even Ozzy Osborne is a singer/songwriter by strict definition. But then I realized that things are so divided by genre now that though I don't necessarily think of myself as Americana, that's probably what it sounds like to most uninformed music listeners. I have to admit I come at "American music" by way of English bands like the Beatles and so it's not really just American. Though I am American and when I'm touring in Europe I can feel a twang in what I do that's not present over there.
I also have to admit that my only goal in making a record is to include only recordings of songs that have at one point made me feel happy and proud to have made them. I can even change my mind and hate a song eventually, but if there was once a strong feeling that I "got it" then I stick with it. Then I weed it down to the ones of those that other people tend to like. Then I try to put them in some kind of order that tells some kind of musical or lyrical story and feels like some kind of journey. This one took a long time, mostly of just leaving it alone, and letting the cream rise to the top.
The indie-rock and record-industry worlds have changed enormously since you started recording in the early '90s. Is there a clear and succinct way to make sense of what's happened to people like you in the ensuing years?
I think most of the people who try to cash in on a trend drop away when it becomes clear there's gonna be no real payday. Then there are those of us who feel a life mission to find these songs in the ether and share them with the world, even if that world is only a few hundred or thousand hard core fans and listeners. I mean, in the words of Dr. Seuss in Horton Hears A Who: "A person's a person, no matter how small." I think that extends to fan bases too.