[contextly_auto_sidebar id="yBD4c5vb8BM1hc18kDjMHHcBiA2hrCio"]
ON the occasion of his new memoir, Going Into the City, which chronicles the roots of a rock critic and in some ways an entire generation of American pop-culture journalists, I spoke to Christgau about childhood, politics, fellow scribe Ellen Willis, pop, and the lost promise of the '60s.
He's the author of immortal line, in his review of a Prince record: "Mick Jagger should fold up his penis and go home."
Christgau, who I have been reading since I was as teenager, hails from roughly the same lower-middle-class Queens milieu my father does. I found him both one of the easiest and one of the most difficult people I have ever spoken to.
Here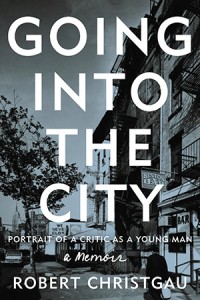 is my piece.