[contextly_auto_sidebar id="EiHxpVihevRrdyMUqFrfFwSxjluukyi5″]
I'VE long been an admirer of the genre-mashing short story writer Kelly Link, who infuses the literary story with horror and fairy tales; she co-runs an eclectic small publisher near Northampton, Mass. as well. Today Link is in the New York Times Book Review with a By the Book  interview in which she talks about her favorite authors and styles.
I visited Link and husband Gavin Grant a few years ago and profiled her for the Los Angeles Times. The story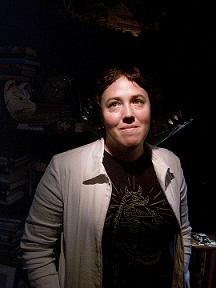 begins this way:
Over the last few years, Kelly Link has come to be regarded as perhaps the most imaginative writer working the rich territory where fantasy, ghost stories and faerie tales come together with literary fiction.

Handbags have entire civilizations in them; a poor woman who needs train fare sells her niece to a wizard. "The zombies were like Canadians," one story goes, "in that they looked enough like real people at first to fool you."

Link herself talks as if her corkscrewing, mind-bending, sardonic short stories — which have earned raves from Jonathan Lethem and Neil Gaiman — are easy to pull off.
Kelly Link is a writer worth following.