[contextly_auto_sidebar id="tIVgpGkX5XqSOOsnIT3mi27r9Oe7n3CC"]
I'M rushing out of town — remember that Powell's Books reading Sunday! — but want to rave for a moment about the show I caught Wednesday night. It's been a good few weeks for music — Martha Argerich with LA Phil at Disney Hall, solo-acoustic Lloyd Cole at Largo, Joe Henry with Sam Phillips at Largo, and now this one.
I've seen Lucinda five or six times previously, but rarely in a club as small (or acoustically great) as the Troubadour. (I can't use the word "intimate" for this show — she was raw, direct and raunchy.) And rarely have I heard her in such good voice — kicking off with "Right in Time," working though newish material from "When the Spirit Hits the Bone" (including "Foolishness" and the song "Compassion," based on a poem by her late father), and including a cover of Neil Young's "Rockin in the Free World."
Her backup band was Buick 6, who opened; I missed them, but they were focussed and forceful, and Nashville-based guitarist Stuart Mathis is one of my new heroes.
The show wasn't perfect — one of her very best songs, "Essence," sounded like it could have used an extra voice, like a slide or country fiddle — but was exhilarating almost all the way through. Lucinda has so many great songs at this point — like Elvis Costello, Wilco, or Sonny Rollins, there's such a great batch of work that she can surprise you and bring out gem after gem.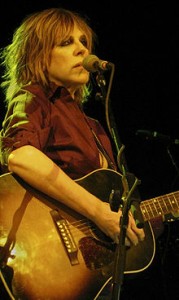 HERE is her and the boys playing an ACDC song, "It's a Long Way to the Top." (Shot by fellow scribe Steve Hochman.) By this point in the show she was, as you can tell, pretty ornery. The best song of the night? Nah, I'd take one of hers. But this should give folks a flavor of the evening.