[contextly_auto_sidebar id="nc1kP0QNXqToOtKKMBYEWF1PA492NXRw"]
WELL, the Bowl's 2014 season ends with a show a lot of us had looked forward to for a long time. The Pixies are a band from the George H.W. Bush administration — from before the indie-rock boom inaugurated by Nirvana's Nevermind — and they've been tighter and more taught since their reunion. Their Bowl debut, then, did not take much time selling out its nearly 18,000 seats.
And the Pixies — mostly indifferent and sometimes contemptuous when the played live during their original run — lived up to expectations last night. We expected them, I think, to play hard. What surprised me were two things.
First, for every Gen Xer pumping his first at the band's (college-radio) hits, there was a Millennial dancing or shouting along as if these anthems were written for her, too.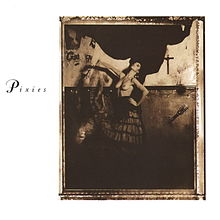 Second, in a set dominated by old "classic" Pixies, despite the band recording some new material lately, I was struck by how many songs — from openers "Bone Machine" and "Wave of Mutilation" to "Nimrod's Son" and "Debaser" to set closer "Where is My Mind" — these guys penned that sound like indie-rock keepers. Has any band that released only a total of five EPs and albums turned out so many great, memorable songs — which sound even better and just as mysterious as they did a quarter century ago?
The band's blend of surf music and surrealism was evident in its first release, Come On Pilgrim, a mini-Lp or EP, released 27 years ago last night. So it was only fair they played a lot of early stuff. Needless to say, the Pixies — especially their loud-quiet-loud dynamics — were a major influence on Nirvana. So in the sense they are among the godfathers of '90s indie, though they sputtered and then broke up before it really got going.
The Pixies recently lost its bassist and founder, Kim Deal, who had a history of tension with singer Black Francis. We missed her vocal harmonies; on some songs, we missed them a lot, though the new bassist may grow into her role. The one-song encore also showed the band's old smug indifference. (Would we have felt disappointed without it?)
The opener was Cat Power, the elusive chanteuse Chan Marshall (right). She is a far more confident and physical performer than I recall from the '90s; she's been notorious for stage fright and meltdowns but seems to have pulled herself together.
Despite wearing an unfortunate plaid shirt (a grunge reference?) that was at least two sizes two big, Marshall and her tough band put her songs across powerfully. I miss the intimate side of Cat Power, but that's hard to summon at the Bowl. At least one song last night came from her The Greatest LP, which may be the finest record of whatever year that was. The best female voice in indie rock? Quite possibly.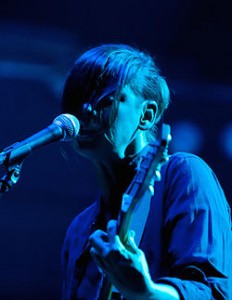 And I'm glad to say while I'm sure Marshall is under a lot of pressure these days to act "normal," she offered a very sweet, disjointed rant near the end of her set which reminded me that she's still in her own world. Long may her freak flag fly.
By contrast, Gogol Bordello — a band a lot of my smart, musically serious friends really like, especially live — left me entirely cold. Many call their accordion-driven music "gypsy punk" — last night they seemed more like an Eastern European version of Red Hot Chili Peppers, bare male chest included. Sure, they had a lot of energy, but every song had identical emotional content — goofy, macho bluster compared to the nuances of rage and loss and disappointment and affection and paranoia and everything else Cat Power and the Pixies offered. (Some of the crowd, needless to say, loved it.)
My friend and I we so disengaged we took a walk around the Bowl during one of Gogol's song. When we got back to our seat, they were still pumping out the same endless number. Or maybe it just sounded that way.
Lucky for us, and the other 17,000-plus in the audience, the Pixies and Cat Power offered strong, moving sets — and left us sad that the season at what may be L.A.'s bet venue has drawn to a close.