[contextly_auto_sidebar id="m8KE0CbwCulzkRvRmJL6ZGSvuY8h2kLD"]
DAVE Hickey has long been one of the orneriest and most original voices in the art world — his book Air Guitar is a revelation — and he recently posted something that hits me almost literally where I live. He's talking about the disappearance of a discourse around visual art that is neither grounded in academia or the marketplace. Here it is in full:
Here's one thing that has changed. For most of my life in the art world there was a non-academic intellectual ghetto. No more, of course, but you should remember that this ghetto had within it's power the ability to invest artworks with intellectual credibility before and other than the accreditation of the market place. This made it possible for young artists to build a reputation prior to their adventures in the marketplace. Numerous magazines published serious criticism of young, non-market- friendly, non-academic artists. This don't happen anymore. The magazines are run to sell ad-space, the symposia are no longer held, curatorial practice has moved up to first class, and professors will write for nothing, thus denying professional writers publishing venues where they were once welcome. Among the beneficiaries of this intellectual ghetto were Mike Kelly, Richard Tuttle, Steve Prina and many others. The virtue of this coalition was that intellectual dispute was not personal, as it is in academia. I could sit on a panel with Peter Schjeldahl, Jeremy Gilbert Rolfe, Elaine Scarry, Chris Knight, and many others. We could shout at one another for a couple of hours and then go out to dinner, because we were engaged in an intellectual discourse. I miss that, and, now that you know about it, you should miss it too.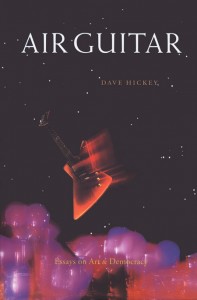 Not only do I agree with this, I think it applies outside the world of visual art: Much of the world of culture had a richer civil society — which included professional journalists, for instance — that kept everything honest and kept corporate power and bad academic prose from dominating. We see it especially in fields like jazz and poetry, but it's not limited to those.
(These lines come from his Facebook post; I quote them with his permission.)
Hickey's latest book is Pirates and Farmers: Essays on Taste, which I'm looking forward to seeing.