[contextly_auto_sidebar id="hoQprz2ypgmwVraWLQKLkTyU9PmJUJUE"]
WHAT would the world look like if a bomb wiped out everyone who wasn't a Gen Xer? A lot like the crowd that filed into the Hollywood Bowl last night. I kept telling myself that we were a very small generation as I saw the rows of empty seats for a show by the Breeders and Neutral Milk Hotel — both cult bands who only released two LPs each during their original run in the '90s — and Danielle Johnston, an older and more prolific musician, but one who has been effectively adopted by Gen X audiences and musicians.
In any case, everyone besides the loud Boomer couples in the box next to us — who would not stop talking about their mango salsa and the rest — seemed to be between 40 and 50, and wearing retro glasses. I didn't fear for the quality of the show, but feared that the low turnout would convince the Bowl leadership would cease booking indie-rock shows by anyone but superstars.
I should not have worried. As Johnston — a manic depressive who was visibly shaking while he sang — belted out songs like "Speeding Motorcycle" and "Walking th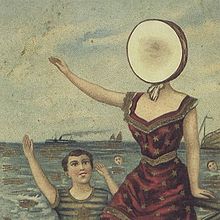 e Cow" (a song so poignant it really needs a new title) with a tough garage band, the place started to fill up. (We Xers are often late arrivers.) By the end, the show was the first I've seen this year that I can call triumphant.
The Breeders rolled out (literally) with a drone-y song called "Off You" I did not recognize at all. Despite loving these guys during their first go-round, which lasted about 20 minutes, I've not given them much thought since. But my first thought was, Sheesh! is Kim Deal's voice good, clear, sexy, expressive — better than I remember. And then, these guys have turned into a sonically more interesting band than I remember.
Their renditions of their "hits" — "Cannonball," for instance — were fine, but it was the stuff I didn't know that impressed me. The Breeders song or two that was overplayed in the early '90s may've blinded me to how strong and musically adventurous they are. The more open, jazz-like songs — the opener, for instance, from 2002's Steve Albini-produced Title TK — were stunning. A short, great set.
Could Neutral Milk Hotel — once part of Athens, GA's wonderful but insular Elephant 6 Collective, with its reputation for eccentricity and reticence — live up to that? When I saw these guys on their tour for their signature album, In the Aeroplane Over the Sea, at Spaceland in Los Angeles in 1998, they played well, but the tiny club was not (to my memory) even full. How could they make enough noise to fill the 15,000-seat Hollywood Bowl? Especially when they had asked not to be projected in the enormous video screens that flanked the stage: They were effectively asking to be smaller than the opening bands.
I'm glad to say that Neutral Milk Hotel somehow pulled it off. Band leader Jeff Mangum came to the edge of the stage, along, and started strumming his guitar and singing the song "I Will Bury You." Again, what a voice! The group — which includes some horn players and an accordionist — came out, and after about a dozen songs that blended indie guitar-rock with Celt-y touches, VU-distortion and  hints of country folk, they were gone, just as mysteriously as they'd arrived.
I'd always liked these guys, but it was amazing to see how the songs — while remaining as inscrutable as they'd always been, Anne Frank allusions aside — sounded completely of our time, and riveting. Since their reunion last year, I'd been wondering how NMH had become one of the few bands from the '90s indie scene to become bigger than they'd been originally. Some of it has to do clearly, with the air of mystery they've cultivated, and Mangum's reclusiveness.
But the show proved something else — these guys are outta sight.