[contextly_auto_sidebar id="yoxDRYe0pvcibitrbAUITNZnhe94ChmB"]
OVER the weekend, the former Angry Young Man played the Bowl, alongside indie piano man Ben Folds, both accompanied by the LA Philharmonic. I'm split on the show. Because both artists had equal billing, Costello had to squeeze a career that goes back to the 1970s into an hourlong set. It was too short, and his syncing up with the Phil was uneven — sometimes it worked, sometimes it didn't.
But Costello, who I've adored since I was in high school, was an affable host, and the high points were so good they made me wish I'd been able to come back for Saturday's show. By the two encore numbers — Burt Bacharach's "God Give Me Strength," with orchestra, and a solo-acoustic "Alison" — he was really on fire. He also seemed to be hitting his stride, and I wish he'd been able to sing for another hour.
His songs included classic stuff — "Accidents Will Happen," "All This Useless Beauty," "Almost Blue," with a nod to Chet Baker — and the newish song "Wise Up Ghost." With a bunch of these — especially "Alison," which made me think he should have done an entire solo-acoustic set before coming back with the Phil — I was knocked out all over again by Costello's songwriting genius.
Folds was friendly and charming, and he's a tuneful enough player. There were even some cool, oddball harmonies in his piano concerto; Folds seems to h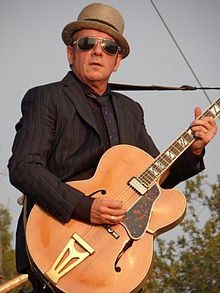 ave remade himself into the indie guy who tours with orchestras, a latter-day pops guy. Little of what he played stuck with me.
Folds described the way record labels have disappeared, and the way artists like him now get their support from corporate sponsors like Acura and Panasonic. "They were my Medici family."
He also praised Angelenos for supporting its orchestra. "We actually need the symphony orchestra — it's a pillar of civilization. It's a symbol of people working together." Folds, who grew up in North Carolina, talked about traveling the country and seeing cities that lacked orchestral groups. "The ones that don't are crap — you don't want to go there." I'm afraid I must agree with much of this.
Here is an approving review by Randall Roberts of the LA Times, and a disappointed review by Ben Wener, formerly of the Orange Co Register.