[contextly_auto_sidebar id="YYQ5BrKAlLhK2VSvLagOYij5KMvYrB2z"]
WELL, both, and neither, I can hear someone out there growling. But what I mostly hear in the culture at large is that we — citizens, worker bee, student, scribe — need to "adjust" to the brave new world of digital technology. Some of us do. But as someone who's been to numerous exhibits and conferences on "art and tech," I've long been uneasy with the suggestion that visual artists (or musical or literary artists, for that matter) need to embrace the latest "innovation."
The art critic Dave Hickey put his finger on this in a recent post.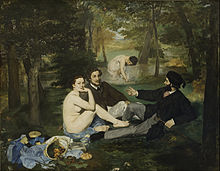 What troubles me about the contemporary relationship between art and technology: Since Manet, art has thrown itself up as a counter discourse to the reigning mainstream technology. Impressionism threw itself self up to counter the new hegemony of photography. Futurism threw itself up against to the rhetoric of ancient Italy. Surrealism threw itself up to counter the reign of the verisimilar image. Abstract Expressionism exploded in the face of residual wartime regimentation. Pop arose to counter the graphic, black and white, Fifties. Minimalism is eccentric in its pretentions: It threw itself in the face of history and of all other art. Then Conceptualism arose to counter the shiny, Technicolor sixties and prefigure the digital future. Once the digital future arrived, I was rather assuming the return of haptic, tactile, fractal in the art world. But no! Academics always want to do things the easy way. Facebook succeeded Press-Type, Digital printouts succeeded Xeroxed photographs, and we have limped along through half a century of geriatric post-minimalism. Is it just my friend Dave who's being bored to tears?
I don't just think it's Dave here. In his book of jazz criticism, The Imperfect Art, Ted Gioia wrote about the way jazz has historically framed itself in opposition to technology and mass production. The subject is big and complex, but has me thinking.