[contextly_auto_sidebar id="lc08pyxv3eSerUA4sZEPFYeA0ka8ZMiw"]
ONE of the best bands going these days is an LA group who met at Amoeba Music on Sunset. Their records sound like lost tracks from the West Coast garage collection Nuggets. And unlike a lot of revivalists, these guys can put it across live and make the music sound not retro but somehow timeless.
Your humble blogger corresponded with the Allah-Las right before their Sept. 4 show at the Santa Monica pier.
Most of you guys met, I think, while working at Amoeba. Did your time there – with all that access to rare music and an environment of fellow music lovers – shape what you do with the band at all?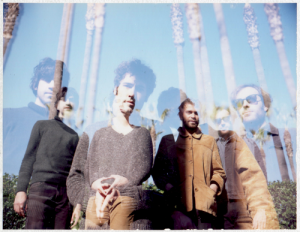 Matt, Miles and Spencer went to high school together. While working at Ameoba, Matt and Spencer met Pedrum.
Having access to a library of music allowed us to easily find and get into lots of records that we wouldn't have been able to otherwise
You've got a song on the new record called "Ferus Gallery," the most important spot for LA art in the '60s. To what extent does West Coast history – art and architecture in particular – inspire your stuff?
Los Angeles has made such a unique mark on the world of art, design and architecture. Like much of Los Angeles history, Ferus Gallery, was an important place and movement that doesn't get the recognition it deserves. We have interests that inspire us and we have weaved then into our sound, song tittles and artwork.
Do the bands on the Nuggets collections and other garage-rock collections have an important place for you guys? I hear that tradition as much as I hear the Byrds and Arthur Lee in your songs. 
Yeah there is definitely a unanimous love for '60s garage rock between us, especially the stuff that came out of LA around that time. Hearing Nuggets for the first time was almost like a revelation. It's a starting point for an endless pursuit of rare and interesting records from that world.
How do you that distinctive Allah-Las sound? Looks like your lead singer plays mostly hollow-bodies and semi-hollows. Do you use vintage guitars? Tube amps? Is there a lot of reverb or delay pedals, etc.?
We try to use instrumentation that complements each other to create a balanced and full sound.  We have been playing together long enough to know how to do that with tones as well as perfo
rmance.  We don't try to outshine or play over one another – that has been something that has shaped our sound all along.  We do happen to like older guitars, tube amps, and our penchant for reverb is no secret.
You play this kind of garage/psych blend about as well as can be imagined. I wonder if you'll find, a few years down the road, that you've mined this style pretty thoroughly. 
If that's the case, we won't have any qualms about moving on.  We're not die-hard anything, we simply make music that sounds like something we'd like to listen to. However, we have been digging for records from this era and genre for many years and have yet to come to any sort of end to the findings.
Can we expect the next phase of the Allah-Las to involve rockabilly, or glam rock, or post-punk? Or does it feel like there's a lot of room left where you guys are aiming?

We don't really conceptualize our music in terms of genre or style – like we mentioned, we simply make music that sounds like something we would listen to. We haven't listened to those specific types of music for many years, and it doesn't seem to be the direction our tastes are leading us, so it's highly likely there will never be rockabilly, glam rock, or post-punk in our music.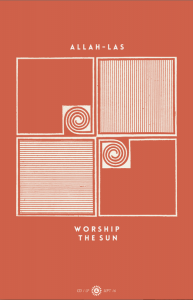 The Allah-Las release their new LP, Worship the Sun, on Sept. 16. They play the Santa Monica Pier on Sept. 4, Amoeba Music (Los Angeles) on Sept. 5, and embark on a tour of Europe soon after. They return to a series of shows in the U.S. and Canada in November.