[contextly_auto_sidebar id="UKi5w9mxgcYp60mSYYXB3aLbyiq9oNKk"]
YOUR humble blogger just caught the former Blasters playing a short set from their new Big Bill Broonzy (pictured, right) record, at the Federal Bar in North Hollywood.
This exceeded my expectations — Phil (who almost died a few years ago) was in good voice, not just on the blues numbers, but on a Jimmie Rodgers song (complete with yodel). Much of the chatter among my posse before the s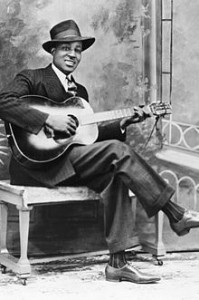 how involved disappointment with the new James Brown biopic, so it was appropriate when their encore closed on "Please Please Me." Never would have thought Phil could sing that, but he hit it hard.
The highlight for me was Dave's fingerpicking — intricate and forceful on a Resonator guitar. Sheesh! No wonder they hired him to play with X years ago.
Besides several Broonzy numbers (including "Key to the Highway"), the played Willie Dixon's "Bring it on Home" (best known from Sonny Boy Williamson) and the early Blasters song, the rave "Marie Marie." (They also played a number from 1929 they called the first rockabilly number ever recorded — I did not catch the song or artist.)
There was a recent full-band show at the Troubadour, I think, but this little gig, part of Gary Calamar's Mimosa series, showed "the power of two."
These guys are of course major figures in the history of Southern California music, especially in the revival of roots music in the years after punk.
Here is a bit of them playing "All By Myself." Eager to hear the whole album.