[contextly_auto_sidebar id="AJwkTxpSjSsEeL7n5JFPH23s6m8blcVb"]
TWO descendants of Woody Guthrie and John Steinbeck make a good illustration of what's happened to the lives of musicians lately. A new story — co-written by yours truly — up on TakePart looks at how musicians are being proletarianized, and I don't just mean the lyrics.
The story — written with Kathleen Sharp — weaves between a look at the musical duo Sarah Lee Guthrie and Johnny Irion and the larger state of musicians in the age of streaming.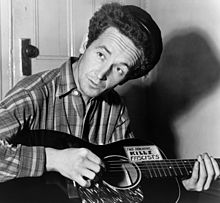 "Music is being treated as digital trash," said Rebecca Gates, one-half of the '90s indie band the Spinanes who now records as a solo artist. "But companies are getting money and building their identities on it. It's horrifying."

Musicians' argument isn't with streaming per se. "It's the fact that everyone gets paid except the music creators," said country singer-songwriter Rosanne Cash, who has recorded 13 albums since the 1970s. "We are creating a culture where content creators are a new servant class, and paid as such."
For what it's worth, Sharp wrote most of this piece; I mostly provided the context. In any case, please check it out.