[contextly_auto_sidebar id="pHxetFmD8PAhck5zTGruKBeGPrlL5XUG"]
IT was 1966 again on Friday night, as two of today's best retro-rock bands, the folky Woods and the garage-psych Allah-Las played at the free Echo Park Rising Festival. Ideally I would have taken in more of the festival, but these were two really strong sets.
I was there to see LA's Allah-Las, whose reverb-heavy take on folk rock — they seem equally grounded in the Byrds, Arthur Lee's Love, and the obscure but wonderful bands from the Nuggets collections — has made them one of my favorite newish groups. The show didn't let me down — these guys have not only mastered a perfect '60s sound,which they can put across live, they've got songs with memorable hooks and a guitarist ripping out great, echoey riffs and fills.
Here is a song from their self-titled debut album. Their sound and look is a bit rougher now; I've got their new album (due next month) and it's excellent. These guys met while working at the Amoeba Music on Sunset, and they have not only endless musical references, but a gift for tunefulness as well.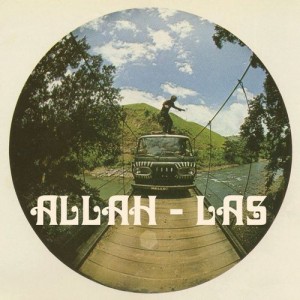 I first heard the Allah-Las on a British compilation of contemporary Byrds-derived bands. Also on that disc was the Brooklyn-to-upstate New York band Woods, whose stuff I know only slightly.  This was the night's big surprise.
These guys have a great old-school sound as well — more influenced by the '70s and Neil Young — but were almost as gripping live. Mostly, I was struck by how good the songwriting was — melodies that surprise you but unfold naturally. Love the weird modal stuff the guitarist was pulling out.
I dig their songs like Hand it Out and Moving to the Left. I'm headed to the record store to grab their last few albums, the new one especially. Long may they wave.