[contextly_auto_sidebar id="dzt0X2rINHchc2UlFWD4AkubWFuBi9up"]
TODAY sees the reissue of the debut LP by one of Britain's best rock bands: The Clientele's Suburban Light. Fans of the Clientele know that this group took bits of '60s British folk, the Byrds, and Velvet Underground, jacked up the tremolo, and produced succinct and chiming pop songs that become hard to forget. (Here is the album's opening track, "We Could Walk Together," and here's the video for the song "Reflection After Jane.")
The album, part of Merge Records' plan to reissue important indie rock recordings for its 25th anniversary, comes with a new disc of demos, covers and new tunes: Some of it goes back to the band's very origins. Your humble correspondent has seen the group three times, interviewed lead singer Alasdair MacLean for a story, and got to know him slightly over the next few years.
The band built a following in both the U.S. and the U.K.. but stopped recording and mostly stopped playing in 2010, soon after t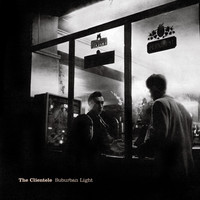 he release of the wonderfully autumnal Bonfires on the Heath.
I recently corresponded with MacLean and asked him to look back – and forward — a bit. Here's our conversation.
Q: Suburban Light includes some songs now more than 15 years old — how do they seem, to your ears, to fit into the career of the Clientele? Do you feel like you were figuring things out as you went along?
A: Definitely. But we're the type of musicians who can only sound one way. It's just how it comes out on tape, it did then and it does now. We worked that out retrospectively: it was only later we wondered whether we should change in some radical way and then realised we couldn't. At the time that record was made, all the band members were very good friends. Making music was only one part of hanging out together. Maybe it's just me, but I think you can hear that warmth in the recordings.
You've got a longstanding interest in visual art: Suburban Light includes a song called Joseph Cornell, and you're a fan of the stark, neglected English painter Paul Nash. What role has painting and art played in your life?
I originally wanted to be a painter. I still paint and sell my work, actually. Pop music and painting were once two sides of the same coin in British culture. Failed artists became musicians. It's the other way round now, as far as I can see. Every artist has a band.
Some of your music and lyrics seem shaped by poetry — French surrealist and symbolist poetry I'll wager. Tell us a little about your taste in verse.
I love the first wave of French surrealist writers, from the 1920s. Not just the poems but the novels too. People like Philippe Soupault, Robert Desnos, Breton, and Joe Boussuet, who is quoted on the sleeve of Suburban Light, and in the song 'We could walk together'.  It's interesting because they're so different to the surrealist visual artists everyone's heard of, like Dali. It's a different thing altogether.
I remember reading one line in a Mallarme poem in the 1990s: 'The musician of hollow nothingness.' A lightbulb went off in my head because it struck me he was doing the same thing as Tom Verlaine – 'lightning struck itself' 'corners turning corners'. 'Hollow nothingness'. It changed the way I thought about writing words and what the purposes of writing could be. I thought I saw a whole secret tradition there, running from the 19th century to punk rock. I wanted to add to it – it set me free from telling stories.
Your delicate and reverb-heavy guitar playing — indebted to Nick Drake and other Britfolk figures — is a major part of the sound of the Clientele. Since the band's last record, during which you've been part of Amor de Dias — has your playing changed at all, found new sources of inspiration.
It's moved away from the folk fingerpicking style and slightly more into Spanish flamenco and Brazilian bossa nova. More syncopated and different types of chords. Playing guitar for Louis Philippe, which I did in 2011-12, taught me a lot about chords and harmonies in a very short time. This is coming full circle though, as the original guitarists in the Clientele, Innes Phillips and I, both learnt Spanish guitar as kids. We played with our fingernails and couldn't make head or tail of the 12 bar blues. My guitar playing is technically better these days, but thankfully I can still be taken by surprise as I play up and down the fretboard and that's where new songs come from.
After a long hiatus, the Clientele have played a few shows this spring. Does it make you want to get the band together for real — recording new songs, a big tour, and so on?
I would like to do it if it seemed worthwhile, or exciting. One of the main reasons I called the hiatus was that we were becoming just another band. Well-rehearsed and boring. A lot of the strangeness and inspiration had gone.
One of the luxuries of being on hiatus is that we can take it one step at a time – maybe if one song or one gig goes well, we can do another. There's no pressure. It's like it was when we first made Suburban Light, every song could have been our last.