[contextly_auto_sidebar id="gWxP2UlWmS5c3mIiMDSg5QhfQpx7pxO7″]
OFTEN I wonder how the pressure on today's musicians and artists to constantly promote themselves would allow a musician like Eric Dolphy — an introvert dedicated to his craft and someone who remains a kind of enigma — to have a career and achieve even the low level of fame he had in the '60s. I'm still wondering, but I'm glad to see a revival of interest in the great LA-born multi-reed avant-gardist. His papers have just been acquired by the Library of Congress, and a festival of his music will take place this week in Monclair, New Jersey. Don Byron, Henry Threadgill, bassist Richard Davis (who played on Dolphy's Out to Lunch album) and others will perform.
Here's Ben Ratliff's New York Times story, describing the importance of the papers: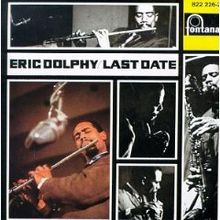 It also holds a key to how he thought and what he practiced: his transcriptions of other music, including bits of Charlie Parker and Stravinsky; Bach's Partita in A minor for flute; and a bass-clarinet arrangement for Bach's Cello Suite No. 1. There are also many scales of Dolphy's own devising, which he was using as the basis for improvisation; practice books and lead sheets; and a page of transcriptions of bird calls.

"The thing that really astounded me," Mr. Newton said recently, "was that this was a person who thought very profoundly about the organization of his music." Dolphy wrote out hundreds of his altered or "synthetic" scales… "Eric was developing multiple styles of music simultaneously," Mr. Newton continued. "There was this highly chromatic post-bop; then music that combined elements of jazz and contemporary classical; and jazz combined with world music."
Between his solo work, his recordings with Coltrane, his stuff with Mingus, I'm left pondering what this expansive and eclectic artist might have produced if he'd lived beyond the age of 36.