[contextly_auto_sidebar id="XtxFdbJyLsCS5dQHdicsk1xjrReqe1hk"]
LAST night, pianist Brad Mehldau and tenor saxophonist Joshua Redman played separate sets at Walt Disney Concert Hall in Los Angeles. These are perhaps the two leading jazz musicians of my generation, so there was no way I was going to miss it. While I would have loved to see these two, who've worked together in the past, play a song or two together, it's hard to complain about the show, which was marked by force and confidence. And while I knew that both leader would play well, even brilliantly, what I'm left with more than anything is what incredible bands each assembled and led: As with the original Bill Evans Trio, it was the inventiveness and empathy of the group dynamic that became the hero of the evening. (I'm not, for the most part, a critic, but I'll give my impressions since the show may not otherwise be reviewed.)
The first set belonged to Mehldau, as well as bassist Larry Grenadier and drummer Jeff Ballard. He played only five songs — his own "Spiral" and "Seymour Reads the Constitution," Elmo Hope's "De-Dah," Lerner and Lowe's "Almost Like Being in Love" and Johnny Mandel's "Where Do You Start." The second number, by Hope, was the one that gave me a sense that this would be a memorable evening: That often overlooked pianist, a childhood of friend Bud Powell's, was equally influenced by Thelonious Monk, and Mehldau's playing was light, fleet, skipping over the deep rhythmic foundation.(Hope lived in L.A. during important years for West Coast jazz, by the way, and played on records by Harold Land, Sonny Rollins and Jackie McLean.) Though his early shows — I've seen him play over almost 20 years — could be very heavy, almost brooding, Mehldau can also be playful. "Seymour" saw the night's best groove. He's now so good he can find fresh things in songs you thought you knew, as he did with the two standards.
Redman came on for the second set, dressed in a trim suit which made a far better impression than Mehldau's red-and-black plaid shirt with orange-red pants. (?) Redman made a commanding leader, taking over the stage, stomping his feet and swaying as he played, and diving out of the way when his solo concluded. His group — Aaron Goldberg on piano, Reuben Rogers on bass, Gregory Hutchinson on drums — was more conventional than the abstract trio Mehldau leads, but was in its way every bit as forceful and swinging. (Rogers' solo on Redman's second or third number may've been the single best of the night, and that's saying something.)
So while Redman — a great talent whose taste is wide-ranging enough to play a Blonde Redhead song, "Doll is Mine" — was an outstanding bandleader, his playing didn't captivate me the way it has in the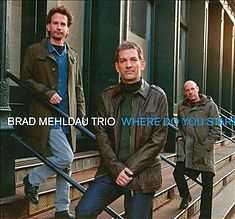 past. He may be playing higher on the tenor than my ear likes — he treats it sort of like an alto without the edge: A tenor needs more "belly," I think. Still, his set was dramatic and assured. Some day, we will get the chance to see Redman and Mehldau, who have collaborated for years, together again on the same stage.
In the '90s, a number of then-young jazz musicians were handed contracts and seemed destined for major careers. Pianists Stephen Scott and Cyrus Chestnut, and multi-reedman James Carter were some of the other standouts. For various reasons, many of these talents are harder to find; I'm glad Mehldau and Redman still have profiles, and can draw large audiences. (Was the Don Cheedle who held the door for me on the way in?)
I had dinner with Mehldau in the late '90s while he still lived in LA., for a story that's no longer online. I recall his interest in Elliott Smith and Stereolab, his love of his childhood record store in Connecticut called Integrity in Music, his description of the liberating atmosphere of California — it was no longer guys playing the same Charlie Parker solo over and over again, trying to memorize it exactly, as he'd seen in New York. He had also recently kicked heroin and tamed a very serious bout of drinking. It's been fun watching his skill and fame grow.
While he's been back East for a long time now, L.A.'s eclectic atmosphere, especially the mix around Club Largo, made an enduring imprint on him. A musician who continues to stretch and deepen.
ALSO: Sadly, it becomes less and less shocking every day. But the South Pasadena bookstore, Book 'Em Mysteries, has just announced that it will close. This comes only a few years after the shuttering of The Mysterious Bookstore in Westwood; even in noir country, it's getting to be impossible to keep these things going.
During the two years I covered books and authors for the Los Angeles Times, this sort of thing became drearily familiar: I wrote the obits for Dutton's Brentwood Books and several others. When I visited LA for the job interview that eventually brought me here, Midnight Special was flying high in Santa Monica; ow that place is long gone. Optimists sometimes told me: The general interest stores are having trouble, yes, but specialized stores, with a small but dedicated audience, will do fine in these niche-conscious times… (Sigh.)
Of course, it's not just Southern California. The New York Times recently ran a story about how high rents in Manhattan were pushing bookstores off the isle. From the article:
Rising rents in Manhattan have forced out many retailers, from pizza joints to flower shops. But the rapidly escalating cost of doing business there is also driving out bookstores, threatening the city's sense of self as the center of the literary universe, the home of the publishing industry and a place that lures and nurtures authors and avid readers.
FINALLY: One of my favorite, perhaps my very favorite English indie-rock band is the chiming combo The Clientele, who should appeal to fans of Nick Drake, The Smiths and Belle & Sebastian. The band's label, Merge, has just announced a smallish U.S. tour by the group this summer. Details here. I'll be writing about the group more in future weeks. This news, by the way, is especially welcome since it's been hard to figure out if these guys were even together these days: They've not put out an LP in five years.