[contextly_auto_sidebar id="6L1vQwHGvhhhWxyn2fDj3qlLYwI011YD"]
ATYPICALLY, I'll start the week by recapping the weekend a bit. First, the Los Angeles Philharmonic is partway through its second Minimalist Jukebox. The Phil is doing its best to take an expansive view of this oft-caricatured movement. On Saturday I caught a John Adams-conducted concert that included a world premiere, U.S. premiere, and (by the standards of this young subgenre) old chestnut.
Michael Gordon's Sunshine of Your Love, the opening piece, was the real ear-opener for me. Critic Mark Swed wrote in his LA Times review that the piece was "surely the loudest sustained noise a conventional symphony orchestra has ever been asked to make and a conventional symphony orchestra subscription audience has ever been asked to accept." That may be, though it was more than just a blast of noise. Made up of four sections, each tuned an eight of a pitch apart, the piece used traditional orchestral ornamentation but sounded more than a bit like one of the overdriven guitar parts Jimi Hendrix played. At the same time, it was perfect for Disney Hall's acoustics.
Curiously, Sunshine was first performed across Europe in 1999; it's taken til 2014 for a stateside rendition. More proof of the difficulty of contemporary music to find a proper venue and organization willing to take a chance on it, even by a composer like Gordon, one of the founders of Bang on a Can. This piece was both radical and accessible.
Terry Riley' organ concerto, At the Royal Majestic, which made its world premiere, was many people's favorite of the evening; wildman organist Cameron Carpenter, played like a demon. John Adams' Naive and Sentimental Music is one of my favorites of this composer who brings West Coast minimalism together with 19th century romanticism. At least one of my classical- music friends has his doubts about Adams, but his best work speaks to me in both direct and elusive ways.
ALSO: The LA Times Festival of Books, where I moderated a biography panel on Sunday, is always a bit overwhelming. I saw some good stuff while trying to keep my seven-year-old out of trouble. The highlight was probably Barbara Ehrenreich's Q+A (with David Ulin), in which she proved as ornery, sharp and darkly funny as her books. Her skill in myth-busting is an inspiration to the social critic Thomas Frank, as well as my own upcoming tome, Culture Crash. In any case, I'm quite eager to read her Living With a Wild God, which describes the conflict between her deep-rooted atheism and a teenage mystic experience.
To many, I think, Ehrenreich is the author of
Nickel and Dimed
, about the pressures on low-wage workers; that's a great, important book. But she has more range than almost any nonfiction writer I know, and has written penetrating books on the middle-class, the dangers of optimism, feminism, and more.
Here
's Laura Miller on her new one.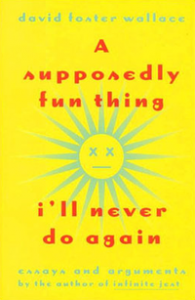 FINALLY: Another longtime inspiration of mine, David Foster Wallace, is the jumping-off point for a Salon
story
about irony. The authors are riffing on a DFW essay published 20 years ago, about television and American fiction. That piece argued that irony and postmodernism's cool distance had started out in experimental fiction, and seemed to have a liberating effect on the culture, but had turned into a trap. In ways that would shock Thomas Pynchon or John Barth, it had become a tool for advertising and corporate marketing. His essay, "E Unibus Pluram," remains essential reading.
"Irony is now fashionable and a widely embraced default setting for social interaction, writing and the visual arts," the new piece, by writer Matt Ashby and painter Brendan Carroll, says. "Irony fosters an affected nihilistic attitude that is no more edgy than a syndicated episode of 'Seinfeld.' Today, pop characters directly address the television-watching audience with a wink and nudge."
Anyone who knew me as a Vonnegut-and-Letterman besotted teenager, or a Gen-X-inflected young man, would be shocked to hear me coming out against irony. But as the culture has changed, it's been hard for my point of view to stand still. Anyone feel the same way?