[contextly_auto_sidebar id="TrbR7MBr156tnxxUjyokh6h5WiyTPKma"]
ONE irony that members of the creative class lives with every day is that we help bring neighborhoods up, and then get priced out sometime after the ascend. This has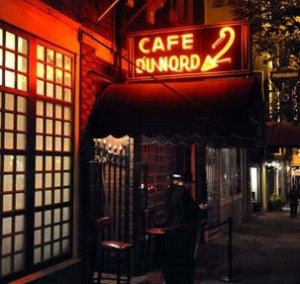 been going on for decades, but it's taken on a special fierceness in places where the tech boom and high finance have reshaped the cost of living.
We see a laboratory for this in the Bay Area — a region with deep cultural roots, a self-conception as home of the Beats and other artistic movements, and what may be the highest cost of living in the nation. An SF Weekly cover story on the rock-music scene in San Francisco wonders how it survives rising rents. The story's sources — it's basically a roundtable discussion — include indie figures like John Vanderslice and the former owner of the storied Cafe du Nord. (There's even a set of lyrics from Jello Biafra of the Dead Kennedys.)
Here is Ian S. Port in his story "Exit Music":
Looking around at a city in the midst of its second tech-fueled economic boom, with housing prices reaching surreal heights and a culture that's more work-focused than ever permeating these 49 square miles, many involved with the city's arts and entertainment scenes find themselves asking: How will noncommercial creativity — and especially loud, space-demanding music — survive? Can the city that hosted the titans of jazz, that spawned the Grateful Dead and psychedelic rock, that cradled West Coast punk, that inspired countless singer-songwriters, that helped birth the modern LGBT movement on its dancefloors, continue to nurture a vital musical culture of its own?
The process may be at its fiercest in the Bay Area, but we're seeing it happen in Los Angeles, where I live, and elsewhere. David Byrne had written of the damage it's doing to the creative life in New York. (I'll point out that I consider LA's music scene post-World War II vastly more fertile than SF's, from Charles Mingus and Chet Baker to the Byrds and Love and X and Beck and Freestyle Fellowship and on and on. I'll give them points for classical minimalism, though.)
One of the best pieces on this process in general comes from Catherine Rampell in the New York Times, who concentrates not on rents for the creative class, but for home prices for the middle class. The dominance of big money during the recovery has put housing out of their reach. Musicians and artists often think of themselves as operating in an alternate universe, but when the middle class suffers, they do, too.
Her piece, "Boom, Bust, Flip" is here. As for San Francisco, I can do without the Dead, but let's hope its music scene survives. As for the larger middle class, I'm long past worrying.