[contextly_auto_sidebar id="46i5BmaPr0zmJefPqiMZ5JyjjVYvB11F"]
THE jazz label Blue Note has announced plans to reissue 100 of its classic albums on remastered vinyl as part of its 75th anniversary celebration. I don't love everything Don Was has cooked up since taking over the label — his emphasis on "branding" rather than improving and promoting the actual recordings and supporting the label's artists makes me a bit queasy — but it's hard to object to this.
Of course, as music fans, it's also our job to complain, or at least debate, the records left off the list of 100. I'm delighted to see John Coltrane's Blue Train, Eric Dolphy's Out to Lunch, Herbie Hancock's Maiden Voyage, and Dexter Gordon's comeback record, Our Man in Paris, all on the first two batches of reissues. But where, for instance, is Grant Green's breakthrough, Born to Be Blue? (Cue voices of jazz fans ranting about what's not here.)
I am delighted, on the other hand, to see aptly named Green's Street of Dreams, with Larry Young on organ, a great record which is hardly an obvious choice.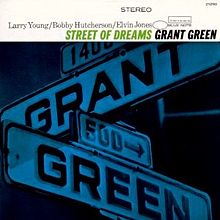 The New York Times' Larry Rohter praises the list, and then throws out his own objections:
But I was also puzzled by some omissions from the list. Where is the trumpeter Blue Mitchell? The "essential 100" includes three recordings each by his contemporaries Donald Byrd, Freddie Hubbard and Lee Morgan. If I were compiling the list, I'd have found a way to include Mitchell's "The Thing to Do," a nifty 1964 session with a very young Chick Corea on piano and an even younger Al Foster on drums.
I welcome similar recommendations from readers and listeners.
It's hard not to notice that how many of these albums come from the label's classic years, from the '50s til about the mid-'60s. That's my favorite period as well. But what does it tell us about Blue Note, and about jazz itself, that there's so little recent work, besides a few great albums by Joe Lovano and Cassandra Wilson? I'm not of the "jazz is dead" school — exciting work is still being made and performed all the time — but I tried to wrestle with the issue in this Salon story.
ALSO: For musicians, jazz or rock or otherwise, alive today, the news about recordings continues to be bad: A new study shows that even with digital sales and the growth of streaming services like Spotify, revenues were down last year. "According to an annual sales report from the trade group, the International Federation of the Phonographic Industry, wholesale revenue from recorded music around the world in 2013 fell by 3.9 percent compared with the year before, to $15 billion," Ben Sisario writes. "Beneath that number, however, is a complex picture that shows how the recorded music business is trying to reverse its fortunes, which have been slipping since a peak of $27.6 billion in 1999, according to the trade group, which is based in London."
The question we always move on to from here is, Did the recording industry drop the ball, or did new technology make this collapse inevitable? And what can we do so that musicians can profit from their own work? Keep watching this space, and feel free to offer comments on all of these questions and issues.