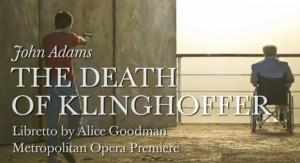 "Here, this will change your life."
And, with that phrase, a gifted choreographer tossed a paperback book by James P. Carse toward me. As it fell into my lap, I saw the title, Finite and Infinite Games: A Vision of Life as Play and Possibility, and the first passages of the book printed on the cover.
There are least two kinds of games. One could be called finite; the other, infinite. A finite game is played for the purpose of winning, an infinite game for the purpose of continuing the play.
If a finite came is to be won by someone, it must come to a definite end. It will come to an end when someone has won…..
When I read Zachary Woolfe's intelligent article, An Opera Under Fire, on John Adams' opera, "The Death of Klinghoffer", that memory came back to me.
I am studying Michael Daugherty's Trail of Tears for an upcoming performance. Written for Amy Porter, who will solo in our concert, Daugherty's work is a powerful retelling, not only of the story of forced migration of Native Americans, but of a culture that was almost silenced by American policy.
That was what resonated with me: the parallel between Daugherty's work and that of Adams. Not musical parallels, but historical ones.
Carse wrote a sentence in his book that defined evil as "the termination of infinite play. It is infinite play coming to an end in unheard silence."
Here, Carse offers an instructive rumination on just such a silence:
"Unheard silence is not the loss of the player's voice, but the loss of listeners for that voice. It is an evil when the drama of a life does not continue in others for reason of their deafness or ignorance. There are silences that can be heard, even from the dead and from the severely oppressed. Much is recoverable from an apparently forgotten past. Sensitive and faithful historians can learn much of what has been lost, and much therefore that can be continued. There are silences, however, that will never and can never be heard. There is much evil that remains beyond redemption."
And then Carse begins to relate this thinking to the subject of Daugherty's music, the results of the Indian Removal Act of 1830.
"When Europeans first landed on the North American continent the native population spoke as many as ten thousand distinct languages, each with its own poetry and treasure of histories and myths, its own ways of living in harmony with the spontaneities of the natural environment. All but a very few of those tongues have been silenced, their cultures forever lost to those of us who stand ignorantly in their place."
Later in the same chapter, Carse argues, "The Nazis did not compete with the Jews for a title, but demanded recognition of a title without competition. [Obviously here, as he does in the rest of this remarkable book, Carse is specifically using his own lexicon related to game theory – even as he discusses the underlying truth of the Holocaust.] This could be achieved, however, only by silencing the Jews, only by hearing nothing from them. They were to die in silence, along with their culture, without anyone noticing, not even those who managed the institutions and instruments of death."
Now, to be clear I believe that the historical act of killing Klinghoffer was an evil act. In Carse's lexicon, it ended his "infinite game" – his ability to "continue play" by silencing his voice.
The story upon which Adams's opera is based is well known. It had heroes and villains, or at least it did on CNN. We knew whom to root for, we knew who had done something unjust. We knew whom to hate.
Similarly, our games of cowboys and Indians reflected a story of heroes and villains. It was a simple story without complexity perfect for children. Such a game could grow out of the viewpoints of the 1800's when we could ignore the darker side of the Manifest Destiny. Two centuries later, Daugherty's work turns that sentiment on its head and provokes no protest. We listen with open ears to a story that would have mystified our ancestors.
And so, if John Adams has written something that is so unsettling that, according to Woolfe there are concerns about protests from the audience at the first performance, the questions of what and why have to be answered.
What is it we don't want to hear? Or that we don't want to feel?
And why?
What strikes me is that this opera hasn't so much reworked the story of Klinghoffer's death, but that it has the potential to rework us.
The more beautiful the music given to the terrorists, the more frightening the power of this Art becomes. What if by listening we actually sympathize with the villains? What if they might suddenly seem justified, even for a moment, in killing an innocent man? Haven't we found ourselves at some point sitting in front of a screen identifying with a character in a film that doesn't at all represent our values? Is it possible that this is what is truly at play here?
The opera isn't what frightens us. What we have to fear is the potential for change within us that might take place should we hear it. It is the complexity of the story that we reject; even a hint of grey in a black and white scenario.
It is as if we prefer unheard silence to the discomfort of ambiguity.
Our world plays itself out in a series of finite games. People win; people lose. The same for countries; religious movements; political parties. The means of winning a finite game can involve a breaking of rules, and, actually, we don't recognize winners of those games when the rules are not observed. Terrorists ultimately lose because they turn their back on the basis of civilization. Their power is rejected because it doesn't align with the finite game in which it is being played out.
Art plays itself out in the realm of an infinite game. The goal is not about winners and losers, but the ability to continue the "play". It is the long arch of the human spirit that concerns creativity. Life really is short and Art actually is long. This well-known phrase isn't a cliché but a description of reality.
There is no doubt about it that killing Leon Klinghoffer was an act of evil.
As hard as it may be to accept, killing the chance to hear an opera based on that story would be yet another.
And that is why the Met deserves praise for its courage in going forward with tonight's performance of John Adams's "The Death of Klinghoffer."