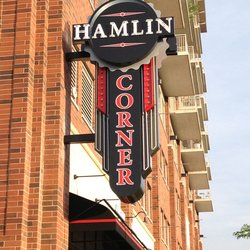 For the customers having a beer at the end of a workday it must have been a surprise to see the music cases coming through the door. When the flat screen TV's normally displaying baseball games broadcast on ESPN switched to an in-house streaming camera focusing on the musicians that must have raised an eyebrow too.
We all know that live music has its place, including in such establishments. It wouldn't be uncommon to listen to musicians in a bar over light hors d'oeuvres and a glass of wine, but it wouldn't usually be with an orchestra playing.
Recently the Birmingham Bloomfield Symphony Orchestra, a professional regional orchestra in Greater Detroit took a page from NYC's Le Poisson Rouge and crossed the Great Divide. The well-known New York venue has night after night of truly cutting-edge events with programs ranging from opera to poetry readings, from hip hop to string quartets. It has fostered a following of patrons who find their art fix outside traditional settings. Their audiences are often younger and the scene is certainly more relaxed and intimate.
So when the BBSO decided to follow that model for an evening last week in Royal Oak's Hamlin Corner, it was joining a growing trend of musicians who are looking for ways to revitalize themselves and redefine the relationship between musician and listener. Many of us know of pioneering cellist Matt Heimovitz and his turning away from the concert hall toward the coffee house. Following in his footsteps solo musicians and chamber music groups have sought venues that would welcome them into less-than-sacred settings – not as background music but as the featured entertainment – a way of presenting music more intimately and without pretense.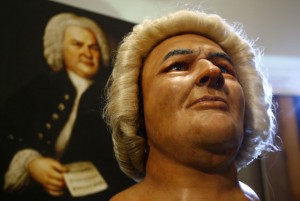 When the Detroit Free Press announced this concert it Mark Stryker wrote, "There are several notable aspects to the Birmingham Bloomfield Symphony Orchestra's upcoming appearance at Hamlin Corner, a sports bar in downtown Royal Oak. First, it shows that the orchestra, one of the many smaller regional orchestras around metro Detroit, is serious about elevating and transforming its profile. Second, it's unusual to hear a chamber orchestra in such a venue rather than the smaller ensembles that are more typical for these kinds of concerts. And, perhaps most intriguing of all, the program that music director John Thomas Dodson is leading smartly connects the dots between old and new music with Bach's "Brandenburg Concertos Nos. 3 and 5" (with harpsichord) sharing the bill with Christopher Theofanidis' "Muse" (2007) scored for the same forces as the Bach works."
While the orchestra sold tickets to the event, it didn't close the place to the normal patrons who were ending their workday over a cold glass and conversation. So these patrons would comprise two very different audiences within one setting. Some came prepared to hear music, while the others had no clue as to what was about to happen.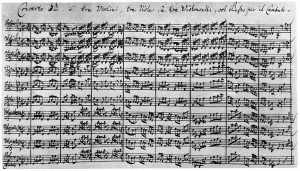 To begin the evening I started with a story of Bach's manuscript being sent as a possible job application to the Margrave of Brandenburg in Berlin when Bach felt his position in Cöthen was threatened after Prince Leopold married a woman who had very little interest in music. There was a little bit about how the Margrave didn't so much as answer back, how the manuscript was filed away in the library and how it waited for more than a century before receiving a public performance. We talked about the harpsichord and how it was both similar to and different from a piano. Finally I told the patrons that Bach had made his own concerts in a Leipzig coffee house, a place not unlike this one.
The people sitting at the bar were talking a bit too loudly as the music began. For a while their voices got even stronger and I began to worry that the performance would be an evening-long duet between patrons shouting over the orchestra while Bach's notes were trying in vain to get through.
"Patience," I thought. "Give it a chance."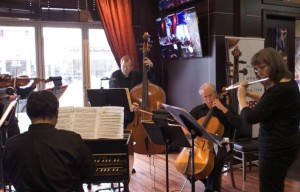 And gradually something began to shift. The power of the music began to have its impact. Forty minutes later the very same people who had been ignoring the music at the beginning of the program sat silently watching as the final notes of the performance ended. It had been a journey for them: First trying to talk OVER the music and finally becoming one with it. I watched them transform themselves. It wasn't that they gave up; it was that they gave in. The music had won out.
I had worried most about how Christopher Theofanidis' Muse would be received. Written in 2007 it isn't a radical piece. Indeed, it is enormously approachable music but it would be such a shift from the Baroque language of Bach. Would people get it? The answer was yes. They listened, if anything, more closely. Muse simply couldn't serve as background music. It demanded just as much attention as the Brandenburg Concertos.
My favorite moment of the evening came from the audience itself. It was at the conclusion of the long harpsichord cadenza-like passage in the first movement of the Brandenburg Concerto No. 5. As the virtuoso passage builds tension there is a natural rising of anticipation for its conclusion, and Bach delivers his coup de maître with a perfectly timed final statement of the opening ritornello to close the movement. But just as that moment took place, the music was almost completely covered by spontaneous applause and whistles from the crowd. It felt just a jazz concert, and honestly, it was an utterly appropriate response in that setting.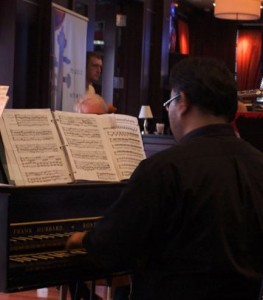 I'm under no illusions. This wasn't a big victory, and the world didn't change radically that night. But at least for some people who weren't going to hear Bach's extraordinary beauty in any other way last week, you'd have to score this one as a win for the cause. And for the orchestra members themselves, there was something empowering in the act of stepping beyond the traditional venues. There was a sense of taking over one's destiny, of not giving in to the status quo, of giving hope to an art form that often finds itself stuck – attached to tradition and unable to break free.
At the end of the evening two patrons sitting at the bar bought a round for our table and came over to visit. We exchanged cards and email addresses.
By just having the willingness to be there we had become something more than strangers.