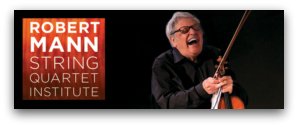 This afternoon I watched as a great master passed on everything he could leave to the next generation of musicians. Robert Mann, at 91 years old, was teaching a master class in Miller Recital Hall at the Manhattan School of Music.
The founder and first violinist of the Juilliard String Quartet for over fifty years, Mann has been a driving force in the world of music for more than seven decades. He is on the faculty at Manhattan School of Music and has been president of the Walter W. Naumburg Foundation since 1971. He received the Lifetime Achievement Grammy Award in 2011.
Today's event was part of the first Robert Mann String Quartet Institute at the Manhattan School of Music. There are six string quartets participating: Aeolus Quartet, Amphion String Quartet, Ars Nova Quartet, PUBLICQuartet, The Old City Quartet and Voxare String Quartet with repertoire ranging from Bartók and Beethoven to Mendelssohn and Mozart.
To say the least, this must have been quite a week for them. There have been daily coaching sessions with some of the finest chamber musicians in the country and the Institute will end with a public concert on Friday evening.
Mann's comments were at times specific, rigorous and, at other points, suggestive and open-ended.
"The end of the note is just as important as its beginning."
"The vibrato on your first finger sounds different than on your third."
"Make the sforzando's longer"
"That note is too beautiful. You need to understand the meaning of this music. This moment isn't about beauty."
"This whole passage is the experience of reaching out and failing to connect. Then, when it repeats, it is as if you have to try again, but harder this time."
"Think about the difference between a comma, a period, an exclamation point and a question mark. Each musical phrase is working the same way. You have to have intentionality in your playing. What do you mean to say?"
I can't speak for anyone else, but to me, this was the kind of afternoon you remember for a lifetime. I looked around the room and wished the whole world could be there. Then I remembered that these master classes are being streamed live on the Internet. There will be another live streaming master class tomorrow. Friday, January 6 at 2 pm EST.