So it seems.
Having faced Darth Vader, John Williams is now arguing, it seems, with something more tangible — and in ways that suggest he has no fears about doing so. Or what his audience might think about it.
Maybe this is me projecting my gloves-off exasperation at our COVID-dominated world, but Williams's Violin Concerto No. 2, premiered July 24 with the Boston Symphony Orchestra at Tanglewood, is saying a lot of things that I need to express in words but somehow cannot. Having collected numerous Grammy Awards and Oscars for his lifetime of film work, the 89-year-old Williams has written a concerto that's far, far away from the world of grand master shots and happy endings that he dramatized in his film scores. The music seems to go where it pleases, when it wants to, sometimes for a very short period of time. Wrapping my brain around it has been challenging enough; explaining the piece's effect is even more so.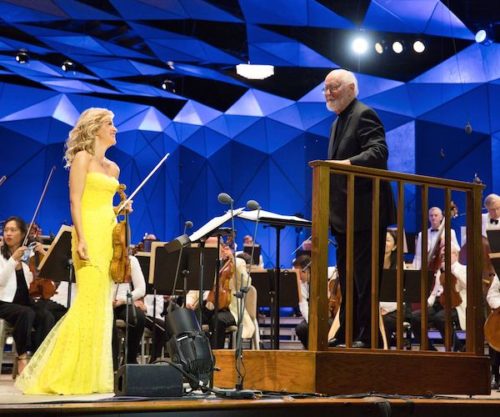 Written for and premiered by violinist Anne-Sophie Mutter, Williams's concerto is part of a slim but growing repertoire of pieces by senior composers, such as Michael Tippett (1905-1998) and Elliott Carter (1908-2012), whose command of their craft into an advanced age allows them to project elements of the human experience with the kinds of insights and observations that come with having spent more decades on earth than composers of previous centuries. Williams has delivered a true wild card – exactly what you want an artist with his kind of public platform to do.
The sound world of the Williams Violin Concerto No. 2 — streamed on www.dg-premium.com — can be likened to that of William Walton: Sonorities are lean, bordering on astringent, tonally based but with plenty of harmonic options to go well beyond any such borders. And it does. The opening violin entrance soars — how could anything written for Mutter not? — but the grand flourish that your ears expect, with a soft landing on sweet, stable terrain, doesn't happen.
Your ears often get thwarted in this piece, as if a devastated world below offers no place to land. What follows is a psychological dialogue between solo violin and implacable orchestral dissonances. Even at its most lyrical, the violin writing seems to be speaking rather than singing. And what is it saying? Variations on "How dare you (fill in the blank)."
Particularly in the first movement, almost nothing flows. Everything is interrupted. In a bow to standard sonata form, there's a sense of two theme groups amid the metallic-tinged body blows and thorny pizzicatos. Much feels twisted and gnarled. The phrase that kept popping into my head, over and over. was from ex-President Trump's chief of staff John Kelly: "This is Crazytown."
To appreciate what a departure this is from typical Williams, one must remember that he has, in the past, been most inspired by a sense of The Infinite: The endless space of Star Wars, the mysterious trap doors after trap doors of Indiana Jones, the oceanic expanse of Jaws. His concert works have a similar sense of flow and symmetry; you might describe him as two steps beyond Aaron Copland.
The second movement of the Violin Concerto No. 2 maintains that same sensibility: in a bed of pulsating winds, an expansive (but still not truly lyrical) violin melody unfolds, only to be swallowed up by a masterfully calculated metallic texture. A solo harp makes a series of spectral appearances throughout the four movements, usually played in its ominous-sounding lower range, with a modal melody that gives no clue as to where it's headed other than down.
Much of the concerto's narrative can be charted by duets with the violin soloist: The harp periodically looks in on the violin, a particularly ghostly pairing with solo flute is somewhere in there, along with a less-conventional union of violin and timpani. Any sense of veneer seems to disappear with the final violin cadenza: It stutters, curses and rages — with a following orchestral outburst that feels angrier. Even the return of the harp is prickly.
Even at its most discursive, the music coheres thanks to some clever motivic unification and the sheer force of Williams's compositional personality. Though many strands of the music seem stymied, the piece itself is not: it has a craggy eloquence that's very much in step with our time. Perhaps Dmitri Shostakovich's Soviet audiences had the same sense that the music may not be pretty, but it's real, and is speaking in a sort of under-the-grid language that we all intuitively get but can't explain.
Whatever is behind this piece isn't in Williams's program notes, which say the music is his response to Mutter's artistry. This is obviously true to an extent, because she can play practically anything with fearless conviction while always maintaining surface sheen (as she does here). But there's much more to discover in this concerto in the years to come — assuming you have the fortitude to take it in.