Hundreds of performances of Schubert's String Quartet No. 14 ("Death and the Maiden") have come my way over the decades, but none seized me from the very first notes like the new recording by the vision string quartet, titled Memento, recently issued on Erato.
It arrived in my inbox in a series of sound files for the label's March releases; I had forgotten about this particular one, but now, with a little bit of time on my hands, I tried it as an alternative to circling my home office like a caged animal.
Razor sharp unisons and complete clarity of interpretive intentions, even at the softest levels, make for just the kind of performance I want to hear right now. I'm using 1950s jazz to cheer myself up when necessary, but anything classical has to be something that vibrates intensely with my inner life. Schubert did that here, and the Mendelssohn quartet that follows had even more surprises.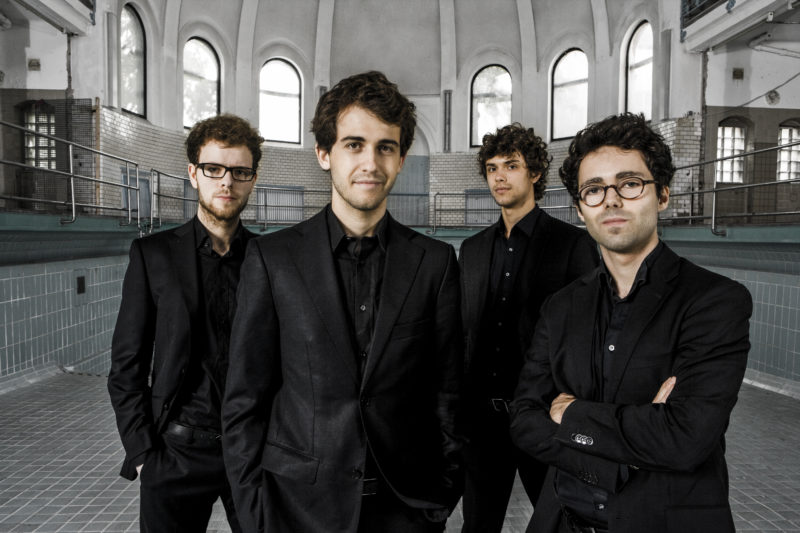 So who are these guys?
With string quartets coming and going as never before, it's hard to keep track. Based in Berlin, the quartet's individual members are violinists Jakob Encke and Daniel Stoll, violist Sander Stuart and cellist Leonard Disselhorst. I'm glad I knew nothing about them before hearing the CD, because some of the publicity photos could telegraph Berlin iconoclasm for its own sake. And what could be more of a cliché these days than giving the group's name, vision string quartet, in lowercase letters?
In fact, the vision string quartet doesn't destroy tradition, but super-energizes it with well-examined, deeply felt interpretive ideas. Schubert's second-movement theme-and-variations, the soul of the quartet, has plenty of them. Never have I heard such an emotional range incorporated into a legato line; it seemed like somebody's lifetime passing before me. My ears moved between players, alternately thinking things like, "It's the violist who is the star of the quartet." No, they're all stars — but ones that would be much diminished without each other. Just as significant were the two following movements, if for nothing else than the fact that, this time, they aren't anti-climactic.
On to Mendelssohn, who often seems ill-represented by his symphonies and concertos, works that showed the composer pursuing formal perfection in ways that threaten to airbrush his natural inspiration out of existence. But younger musicians are showing particular interest in Mendelssohn. Even his early symphonies are championed by Yannick Nézet-Séguin; Jan Lisiecki and Lise de la Salle are only two among younger pianists who have taken on his concertos.
It's sometimes said that Mendelssohn was in significant creative decline at the end of his short life. Through that lens, you could hear the opening of his String Quartet No. 6 in F Minor, Op. 80, composed in memory of his recently deceased sister Fanny, as going nowhere fast. With the vision string quartet, however, the music has such a manic edge that it can be heard as expressing the terror of loss, of not knowing how to imagine the world without a certain loved one in it.
While Mendelssohn seems to rage at all that is around him in the first movement, his anger turns inward in the second, with brooding cello lines whose intensity is without pathos; this is not music that asks for anyone's pity, and may not be addressing the outside world at all. The tender, song-like third movement recalls a comfortable, secure Biedermeier world (whether or not Felix and Fanny actually had that).
But in the final movement, dissonances have an intensity suggesting Mahler — late Mahler. Add to that the vision string quartet's supercharged intensity and the music becomes an expression of excruciating pain that cannot be resolved in any way. Kind of like the powerlessness that you feel while trapped in your home during a pandemic that may be killing your friends? It's here that you realize why Mendelssohn wasn't likely to write a large, choral requiem for his sister. He needed a private memorial and one with music that goes beyond words. And music that's privately written and privately heard makes a lot of sense these days.