Though the New York Festival of Song has been in existence for three decades, its concerts are a continuous stream of musical wild cards — wide in scope, full of discoveries you probably couldn't hear elsewhere, and performed by singers with fine voices and open minds.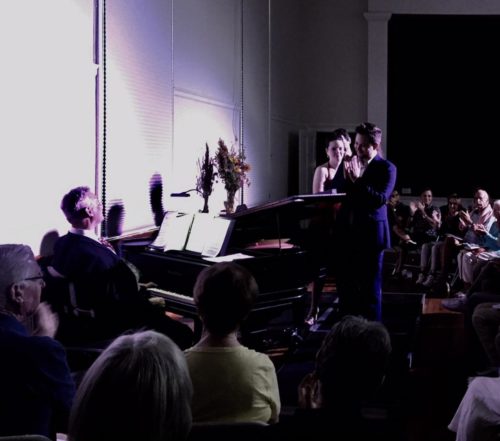 Co-founder/pianist Steven Blier is the catalog-like mind behind it. His particularly adventurous annual August visits to Orient Village, Long Island — a sweet little North Fork whaling town with a cultural life centering around congenial Poquatuck Hall — make me radically redefine what I think I know. Though you might assume that the New York Festival of Song is a haven for the likes of Schubert, Schumann and Wolf, its identity is deeply New York-ish, with all sorts of music juxtaposed cheek-by-jowl (like the city's architecture) and a fearless vernacular streak. Last year, Blier took the Kinks hit "Lola" out of its golden-oldies cage and turned it into a confessional song about trans-gender romance. Blier's singers tend to be up for anything, even the risqué comedy of Cole Porter or the fun kitsch of Hoagy Carmichael, as sung in the Aug. 25 concert by tenor Jesse Darden and baritone Thomas West.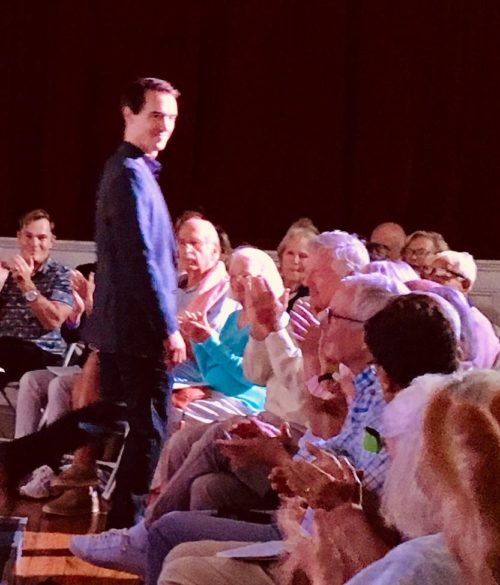 This year's program, presented by Oysterponds Community Activities, was titled "Ports of Call" — a concept that accommodated Viennese operetta, classical items by Bizet, Rorem and Rimsky-Korsakov, and theater music both light (Porter) and brainy (Bob Telson and Moisés Simons). The two extremes, though, were the infectious Beatles song "Back in the U.S.S.R." and the thoroughly unknown "Song of the Mali Slave" by the South African composer Stephanus Le Roux Marais.
The central question that emerged anew: what, exactly, is an art song? And do the Great American Songbook composes such as Porter, Gershwin, Arlen, etc. qualify? And what does this South African guy have to tell us?
German lied is generally defined as a marriage of distinguished melody and poetry. Yet some of Schubert's early ballads are pretty cheap stuff: formulaic sagas with perhaps some Biblical names attached — the work of a still-in-formation musical mind trying out different sub-genres with the kind of youthful facility that can find inspiration in places where more evolved artists would draw a blank.
We listen to these pieces because of what insights they may offer about the later Schubert works, about which we can never know too much. But these early works don't transcend their time and place on a musical or literary level — as do art songs, by definition. So do Schubert's lesser moments allow the lyrical but less cultivated lyrics of the Great American Song Book to be on equal footing? I believe that the best of the great pop song writers belong in that company, but not for that reason.
Lyrics are an art unto themselves, something with visceral appeal that can sometimes be studied like poetry but don't require it at all. Sometimes the definition of a good song lyric is something that doesn't stand on its own, and wouldn't want to if it could, the main purpose being to achieve a mutually beneficial, highly synergistic relationship with the music.
Consider the song that opened the concert: Telson's "I'm Calling You" from Bagdad Cafe. It's written with great musical economy, with a Zen-like repetition (and subtle transformation) of a piano arpeggio that, by itself, wouldn't be so significant were it not for the synergy with the words that create a narrative about goodbyes and beginnings against a wistful landscape of the American southwest. The performance by mezzo-soprano Olivia Cosio also made a much better case for the song than Telson's own performances, which are slow, introspective and not emotionally cogent. This is a back-handed compliment to the song (especially since Telson is a great songwriter): An art song is partly defined by its ability to transcend the personality of its author or its best-known performer.
Much of the Great American Songbook comes from a time when the primary medium for pop songs was sheet music. Without mass media as we now know it, these songs often had no personality to transcend. And up until the rock 'n' roll era, songs were often covered by a variety of singers in a variety of ways, from Doris Day to Nat King Cole, and thus had more than one shot at radio play or on sales charts. In rock 'n' roll, a song's content was often defined by the performer's charisma, and often in a medium that's more driven by rhythm than melody.

That's what "Back in the U.S.S.R." was up against: It's later-period Beatles, when the group had unlimited studio time and thus gave each song a meticulously crafted sound envelope that was strictly tailored to its content. The lyrics, however witty they are, blithely satirize The Beach Boys, Chuck Berry and Soviet politics in ways that may not be transferable to the 21st century. I still enjoy hearing the original by the Beatles — it's a brilliant assemblage of musical elements — but it was the one selection on the New York Festival of Song concert that didn't pull its weight. The best efforts of soprano Elaine Daiber couldn't transform her fundamentally lyrical voice into something that suits the driving rhythms at the core of the song, and Blier at the keyboard didn't make the rhythms speak. Sometimes you just need a rhythm section and a vernacular voice. The idea was definitely worth a try, since the song has a slight but sexy narrative — the relief of homecoming — though that narrative isn't strong enough to accommodate the kind of bold re-imagining heard in last year's rendition of "Lola."
And the South African song? It checked all of the necessary art-song boxes, despite being less musically sophisticated than many songs that wouldn't make it under the art-song wire.
As much as people talk about the universality of music, different cultures find different things to sing about. In Mongolia, you hear songs about livestock — since the animal population there out-numbers people. In the "The Song of the Mali Slave" (sung by West), the theme is forced displacement and profound longing to return home. This is deeper than most Portuguese fado that I've heard — which is often about missing home during a multi-year sea voyage. For the Mali slave of this song, hope of return is gone but blessed memories remain. The simple melody speaks, more than of sadness and nostalgia, of deep resignation. It's beautifully crafted, but its gravitas is what makes it an art song.