Getting to know opera via recording, as has often been said, is like on-line dating. No reason why it shouldn't work. And it often does. Then you walk into something like Korngold's Das Wunder der Heliane with well-founded hopes, and you leave trying to reconcile what you thought it was on recording with what you've just experienced. And if Leon Botstein and Bard SummerScape can't rehabilitate the piece — as they have so many works — who can?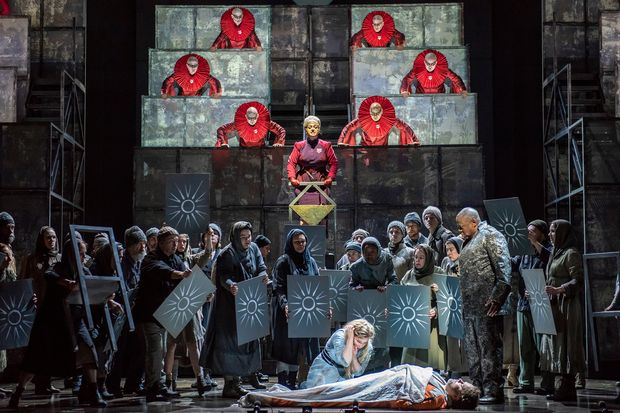 Premiered in 1927 and considered by its composer to be his crowning achievement, this extravagant, beyond-Richard-Strauss opera was met with a cool reception and ultimately forgotten, even after Germany's wartime ban on Jewish composers was lifted. The 1992 Decca recording of the opera led by John Mauceri was a revelation to many, showing Korngold pushing his musical language to the bursting point. No wonder Heliane is sometimes called Korngold's Elektra.
Yet why is the U.S. premiere only now being presented? The recording suggested that the piece was just too daunting and too expensive — with a potentially limited audience market — to hold up in any American opera house or festival. But Bard SummerScape has a history of doing just such works. So, in all fairness to the Christian Räth production (presented at the Fisher Center in Annandale-on-Hudson, NY July 26-Aug. 4), I went there not necessarily looking for a wholly successful rehabilitation. Partial success — or even an earnest, thoughtful attempt — can be just as fascinating. And that was surely the case here.
The Hans Müller-Einigen libretto might be described as a French Symbolist retelling of Fidelio, as incongruous as that might sound. Yes, there's a prisoner of a totalitarian state, and the local dictator's wife (Heliane) is faced with rescuing a would-be lover, known as The Stranger, who has achieved a Christ-like status among the masses. Meanwhile, she is put on trial for adultery. A blind judge shuffles in and out, probably from a Maurice Maeterlinck play. In what sounds like some sort of medieval parable, she is challenged to prove her purity by resurrecting the slain Stranger.
What do you do with that? Well, Korngold treated it to one of the most sumptuous opera orchestrations ever written. Sample, if you can, the Act III prelude, which has the composer trying to outdo Strauss, not in Elektra but in his more thickly upholstered Die Frau ohne Schatten period. Korngold just keeps coming up with one dazzling sound after another.
However, as Räth and designer Esther Bialas know better than any of us, opera needs sounds at the service of characterization. After an extremely promising beginning, about halfway through the first act Korngold seems at a loss for what to do. When in doubt, he just throws more instruments at a character or plot point — impressive but bewildering. No wonder the later Korngold took so readily to Hollywood film scoring: With the dramaturgical work done for him, he only needed to magnify (rather than interpret) what was already there. (He never knew how much he needed Errol Flynn.)
The rest of Das Wunder der Heliane is much more dramatically focused, but, like Die Frau ohne Schatten, it suffers from presenting something that we might now call Magic Realism without the back story and cultural depth that could make the characters more than a series of symbols and the plot more than a broad parable about the power of love and the hopelessness of totalitarianism.
The production often addresses that problem with imagery that echoes pre-World War II German Expressionism with its fantastical costumes and symmetrical stage pictures (achieved partly through computerized imagery) that feel extremely similar to photos from any number of theater and opera pieces from that period. To more seasoned eyes, the imagery sometimes intersects — not unhappily — with that of the 1930s Flash Gordon serial films, with extravagant collars and a gothic sense of malevolence. Sometimes I think Ming the Merciless (Flash Gordon's archvillain) has the most influential silhouette in modern opera stagings.
The vocal writing challenged everybody, as if Korngold didn't want anything getting too pretty. I wouldn't be surprised if Aušrinė Stundytė and Daniel Brenna, respectively Heliane and The Stranger, never went near this opera again. As The Ruler, Alfred Walker came away with his vocal composure intact, and you really wanted to hear him again. From the orchestra pit, Botstein took an integrated approach: While Mauceri's recording seemed to ask how far the opera would go in so many directions, Botstein asked what it all adds up to. And I'm not sure if I can answer that question.
But the Naxos DVD that came out this summer is another story.
In this gray, spartan Christof Loy production from the Deutsche Oper Berlin, the first-scene exchanges between The Stranger and The Porter (who might be described as a relatively benevolent jailer) immediately resemble an encounter between twins . Brian Jagde and Derek Walton have the same hair and beards and are only in slightly different gray suits. From there on, most of the male characters (the blind judge an obvious exception) look like variations on each other.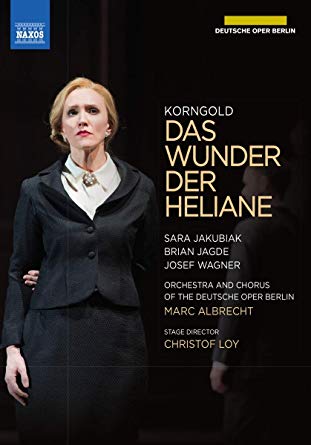 My conclusion: This opera, at least in the first two acts, take place inside of a single psyche. It's vaguely Jungian, with different personality aspects portrayed by different singers. This makes a certain amount of sense, since none of the characters but Heliane have proper names. Time and again, I thought about the old adage, "Your head is a dangerous neighborhood; don't go there alone." And in this production, the neighborhood had more to offer than a staging that tries to tell us that the story is in a real place. Das Wunder der Heliane is best kept in the world of the imagination, where outside rules don't apply.
In Act III, of course, outside rules do apply, since the opera is invaded by a chorus that, until then, had been often treated like an offstage section of the orchestra. And that act does work in a more conventional operatic world, even in the climactic resurrection. But in any case, any route to the truth of Das Wunder der Heliane should scrupulously avoid anything real.