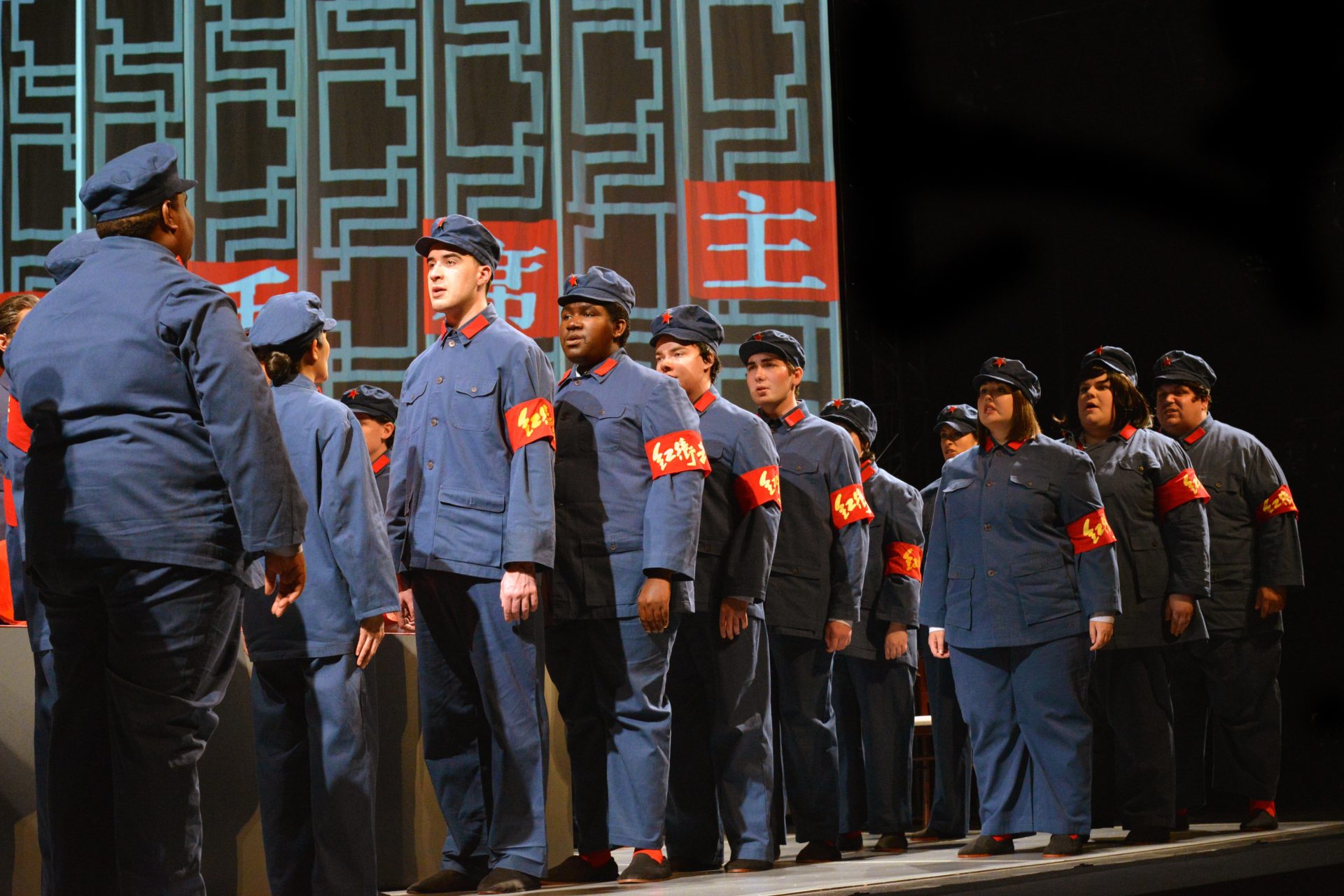 Though John Adams' first opera, Nixon in China, never felt particularly foreign, everybody from singers to directors to conductors to critics needed a few decades to determine what's there and how to draw the most out of it. The new Princeton Festival production played only two performances, June 23 and 30 at the McCarter Theatre Center, but did so with a welcome sense of artistic arrival.
Sometimes dubbed "a CNN opera," Nixon in China is indeed based on Nixon's historic 1972 journey to open relations with the long-isolated People's Republic, though Adams's often-dreamy, harmonically-rich version of minimalism and Alice Goodman's stylized libretto assured that the documentary elements were hazy (as well they ought to be in an opera). The original Peter Sellars staging evolved a lot over the years but, from the opening landing of Air Force One, the balance between reality and fantasy was only tentative.
At the 1987 premiere in Houston, the character outlines were there but details were very elusive. Now I wonder if that production was needed as a source of reference to appreciate how resourcefully the Princeton Festival stood on the shoulders of what had come before.
For starters, stage director Steven LaCosse had Mao lying in state at the lip of the stage in the opening moments, clearly establishing that this is a memory of the event, not a dramatization of it as it happened. (I thought of the great song "Someone in a Tree" from Stephen Sondheim's Pacific Overtures, that describes a history treaty signing from different peripheral viewpoints.) Then came the first scene's problematic jet-landing, which had seemed jerry-built in the Sellars staging; it was handled in Princeton by scene and projection designer Jonathan Dahm Robertson with what appeared to be giant windows in the rear of the stage — which were, in fact, video screens, so you saw the plane landing as if viewed from inside the airport, the grandiose presidential insignia looming prominently from outside.
From there, LaCosse seems to have asked the question, in nearly every scene, to whom are these characters singing and why?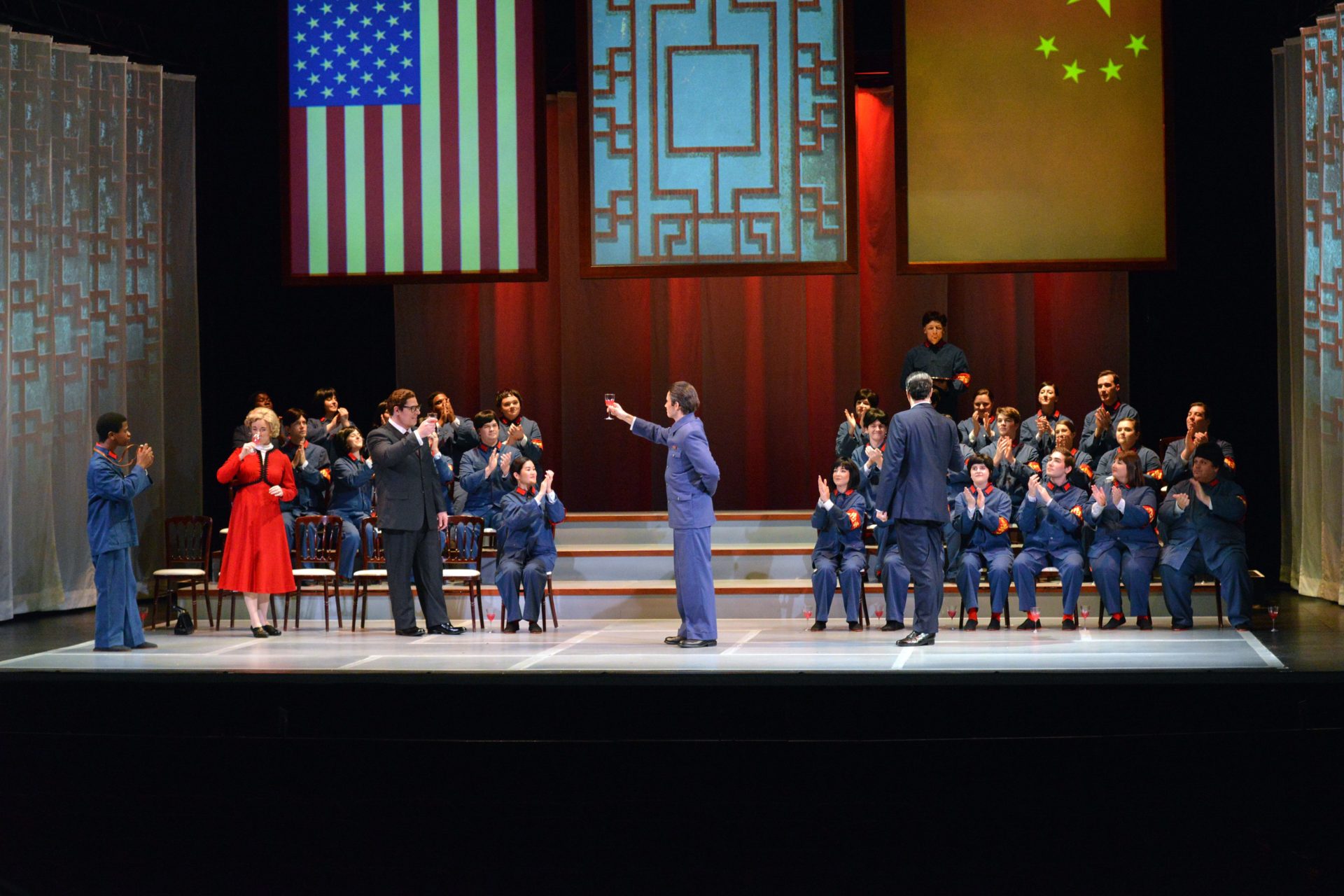 Nixon's opening "News, News…" aria, as sung by Sean Anderson, had a subtle but clear shift between Nixon the person and Nixon the politician, in a detailed reading of the text that even took into account the punctuation in the libretto. Pat Nixon's long Act II soliloquy previously came off like dream-like musings as she experiences this deeply foreign country. But memory is more precise, because the experience has been processed in retrospect — so LaCosse's memory-play had Rainelle Krause putting the scene in far sharper focus. A great directorial flourish at the scene's conclusion put her back in front of rows of diplomats in gray Mao coats, reminding you that this was a state visit and that her observations were massaged a bit for official consumption. More important, the scene paints a deeply compassionate character who would later intervene in the brutal ballet, "The Red Detachment of Women" (which was quite brutal in this production), mistaking art for reality.
Mr. and Mrs. Nixon have generally done well in Nixon in China productions thanks to the musical charisma given to them by composer Adams. But one of the primary breakthroughs among the Princeton cast members was Cameron Schutza as Mao. In the original, John Duykers was a bizarre presence, lurching in like Frankenstein's monster, with a rather generalized treatment of Adams' vocal lines suggesting that Mao was a bit gaga by that point in history. But Schutza revealed the text as an ongoing game of ideological cat and mouse. As a supreme dictator, Mao would have convictions that would allow no argument — and here, you understood how his mind maneuvered.
Thus, the character balance of the opera was different. Henry Kissinger (Joseph Barron) got a bit lost (no great problem for me) and Chou En-Lai (John Viscardi), whose death at the end of the Sellars production was a brilliant move, wasn't quite the heart of the opera as before — not least because Chou's death was, in Princeton as in real life, usurped by Mao, who was again lying in state at the end of the opera.
How much, then, does all of this change Nixon in China's standing in the opera world? As time goes on, it has felt like a beginner's effort for both Adams and Goodman, Adams gaining increasing depth with works such as Doctor Atomic and Goodman veering toward a more visceral expression in The Death of Klinghoffer. In Princeton, her achievements seemed higher in the best moments, but there were also lapses where I sensed she didn't quite say what she meant. The opera's narrative energy dissipates near the end, until ultimately you accept it as a brainy pageant of sorts. CNN opera? This is so not that.
Such were the insights that come with a smaller venue (the Matthews Theatre has 1,100 seats), a smaller orchestra (38 pieces), and the body microphones that Adams asks for, allowing more word-based singing and a closer reading of the music. (In the early years, conductor Edo de Waart gave Adams's music a vanilla gloss, which may have attracted listeners who feared that minimalism was as thorny as modernism but really didn't do the music any favors in the long run.)
In Princeton, conductor Richard Tang Yuk showed what was under the hood, and the surprise was a deep connection to Philip Glass. In the 1980s, I often heard Adams as a break from Glass, and possibly even an apology for the severity of Glass's pre-operatic works. But no, Nixon in China, at least, has a strong family resemblance to Glass and that's just fine. Yuk revealed that the score has many often-glossed-over pockets — deep ones.
I'm almost relieved to discover that. I had always feared that the popularity of Nixon in China would misrepresent this great composer. It does not. The opera is an honorable landmark in John Adams's creative progression.